Fit
Last: 100 mm – A good mid-width for a comfortable touring experience.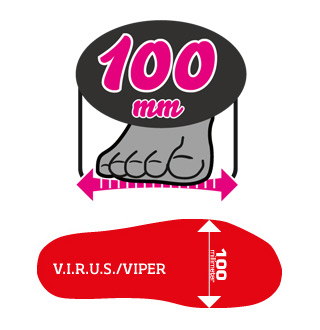 Contour 4 Shell-Fit – Exclusive Dalbello construction technology that maps the anatomical contours of the foot to create subtle "comfort zones" at 4 critical foot points: ankle, heel, 5th metatarsal and navicular. Relief contours molded into the inside lower shell at these 4 points provide a close and accurate fit and minimize the need for shell modifications. The advantage is a close fitting shell with no pressure points, immediate comfort and reduced need for shell modifications.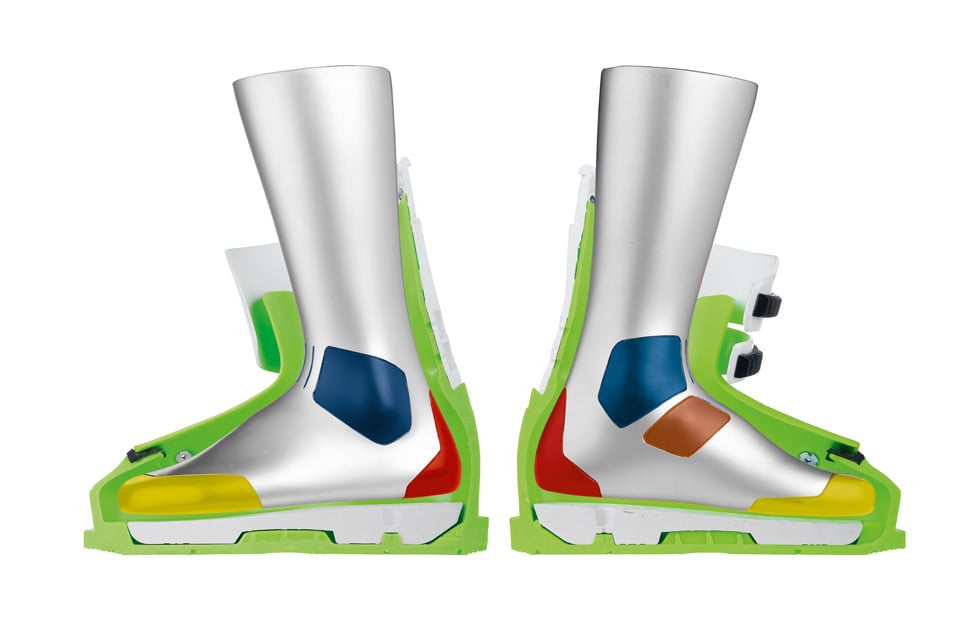 Liner
ID Thermo Sherpa Pro – Easy flex glide and walking functionality // Classic front entry cuff and tongue design // Factory preformed (for easy try on), 100% custom heat moldable Ultralon EVA foam and HD + Enact™ foam laminates // Optional lace up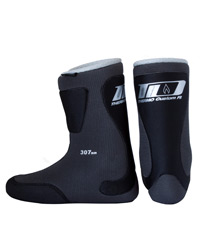 ID Thermo Pro Liners – Developed jointly by engineers from Dalbello and Intuition® Sports of Vancouver, Canada, I.D. Thermo Liners are the lightest, warmest and easiest to fit innerboots in the world. Heat molding eliminates relative movement between the liner and shell resulting in improved response and accurate and powerful energy transmission to the ski.
Shell Materials
Cabrio Design – Cabrio Design ski boots are uniquely engineered to incorporate 3 components: (1) the lower shell, (2) the upper cuff and (3) an external shell tongue. This permits the use of stiffer plastics in the lower shell without affecting the smooth and progressive forward flex, and strengthens the support around the foot for precise lateral transfer of power. The advantage is smoother power transmission, progressive flex and dynamic rebound, increased shock absorption, and greater ease of entry.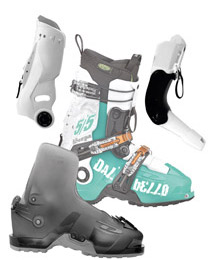 Shell / Cuff / Tongue – PU HEM / PU / PA
Stance
Bio-Stride Tongue – Bio-Stride is an external shell tongue constructed from resilient and responsive polyamide nylon plastic. Bio-Stride is a patented two-piece hinging tongue assembly that permits the tongue to follow the movement of the leg throughout its glide/stride/walking range of motion, either forwards or backwards. When the WALK mechanism is open, the tongue hinges backwards to enhance walkability and gliding. When flexed forward, the two tongue pieces lock together to function as a solid, one-piece tongue.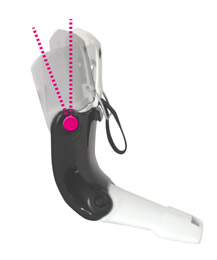 Center Balanced Stance – Today's modern rockered skis and lateral skiing technique require a much more upright and neutral (flatter) stance. Once only offered to racers, Dalbelllo is the first company to deliver this performance enhancing technology to the hungry masses. Center Balance "Rocker" Stance allows skiers of all stripes to take full advantage of their equipment by centering their body mass over the sweet spot of their skis for more power and control with less effort.
Ski/Walk Mode
Low Hinging Cuff + Twin Axle Ski / Walk Mechanism – Sherpa models feature a high leverage cuff assembly with hinge points mounted approximately 10 cm lower than standard construction AT boot designs. The Low Hinging Cuff permits the boot cuff to more easily follow the natural movement of the skier's legs because it has a longer range of forward and rearward hinging motion. The Twin Axle Walk/Ski Mechanism compliments the movement range by incorporating two sets of hinges: one hinge for forward flex, and a separate hinge to extend the rearward range of movement.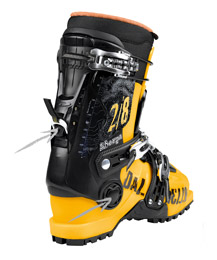 Buckles
Dynalink – Dalbello Exclusive Dynalink closing system: instep buckles linked to shell for highly effective rearfoot closure system minimizing foot sliding, heel lift and boot shell distortion for improved control and enhanced performance leaving the cuff free to flex.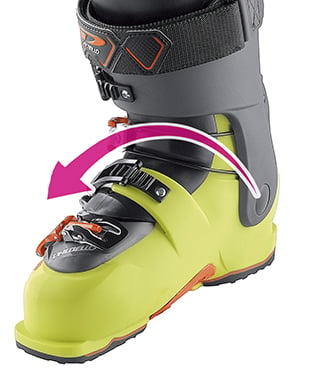 3 Micro Adjustable Alu Buckles
Power Strap
Dalbello Sherpa 5/5 ID Alpine Touring Ski Boots do NOT have a power strap.
Sole
AT Norm Sole w/Vibram + Alloy Tech Inserts – Rockered geometry, lugged Vibram® rubber outsole with Quadrablock stability pylons facilitates walking, climbing, and high traction utility for off-piste functionality. All Sherpa models may be used with ISO 9523 Alpine Touring Norm bindings; Sherpa models featuring Alloy Tech Inserts may be used with tech insert compatible AT bindings. SHERPA models are not designed for use with ISO Alpine ski bindings.