Toe
Triple Pivot Light Toe – This compact design features a horizontally oriented spring. The Triple Pivot Light toe offers a unique combination of light weight and solid power transmission.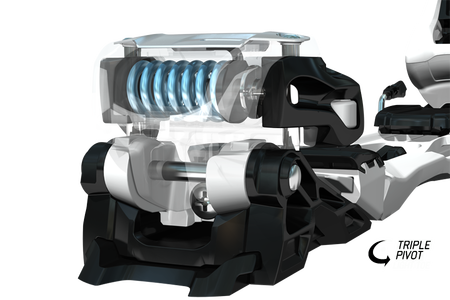 Heel
Hollow Linkage Heel – The hollow linkage heel features a hollow horizontal axle that saves weight and maximizes power transmission, creating a light weight product with the phenomenal power transmission.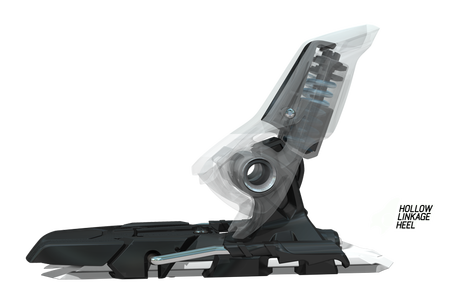 Tour Mode
0˚ / 7˚ / 13˚ Climbing Aid – The climbing aid offers three positions, flat (0˚) / 7˚ / 13˚ which can easily be accessed with the ski pole, even in an unstable standing position. Integrated elastomer padding dampens the impact, reducing the irritating "clack" and allowing more comfortable hiking.
Backcountry Technology – The integrated climbing level features a safe, secure transition from ride to hike. The hiking aid offers flat, 7˚ and 13˚ positions. In ski mode, the BCT lever is protected from unwanted releases.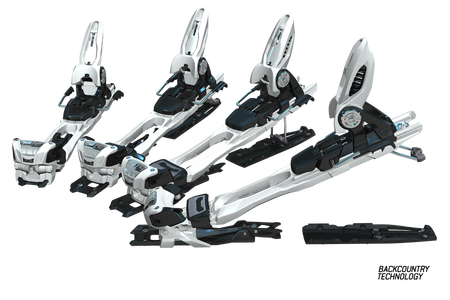 Additional Features
EPF - Extended Power Frame – Bigger, better and 28% wider. The screw pattern is 10 mm wider than before, providing unbelievable power transmission - how many people are skiing on wider skis than 5 years ago? EPF is designed for skis 89 mm and wider.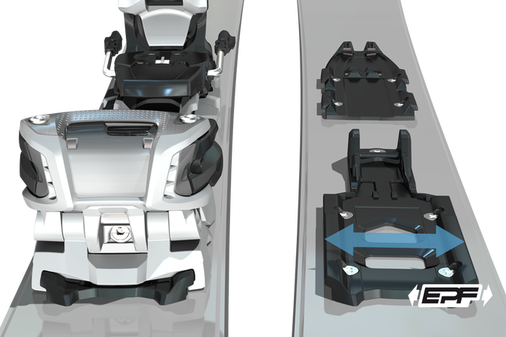 Recommended Skier Weight – 80-250 lbs
Small – Fits boot sole lengths 265-325 mm
Ski Compatibility
We recommend a brake width equal to or at most 15 mm wider than the ski waist width.