Fit
100 mm last
Flex
Flex Rating: 130 – A stiff, near-race flex for expert skiers
Liner
PrecisionFit Tour INTUITION® – K2's PrecisionFit Tour INTUITION® liner has the same high performance molded/lasted design features that give superior fit and ski performance, with the addition of Tour Flex Notches. These notches are strategically placed at the main hinge points, allowing the liner to flex naturally with the ankle and shell when in walk mode, improving range of motion and touring efficiency.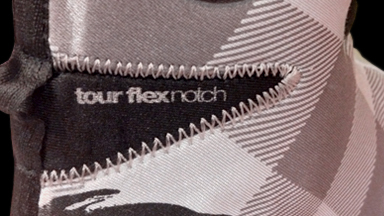 Power Wedge / Forward Lean – The Power Wedge is a removable spoiler for accommodating varying calf shapes and adjusting your desired forward lean angle. The Power Wedge increases forward lean by two degrees, moving the angle from 12 to 14 degrees.
Stance
Dual Cuff Alignment Index – Adjust by +/- 2.2 degrees on both medial and lateral sides for a total range of 4.4 degrees. This enables adjustment to the lower leg angle for maximum comfort and performance.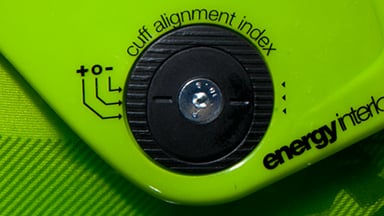 Ski/Walk Mode
Synchro Interlock – Built on the Energy Interlock design platform, the Synchro Interlock enables the simultaneous release of both an internal wedge and the Interlock. When released, the Synchro Interlock delivers greater fore and aft range of motion for more efficient touring. Engaging the wedge and Interlock functionally creates an all-mountain boot, with 100% the flex index and uncompromised downhill performance. This user-friendly design can be locked or released with the flick of a ski pole, for on-the-go efficiency.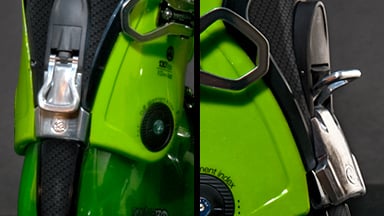 Ski / Walk Mode – Once you go walk mode, parking lots and hikes will never be the same
Buckles
Alloy Buckles – 6060 T6 Extruded hardened aluminum alloy built with a minimalist lightweight design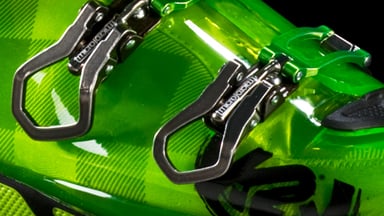 Power Strap
45 mm Power Buckle – Designed exclusively for the freeride collection, the K2 PowerBuckle combines the lightweight efficiency of an extra-wide powerstrap with the performance, strength, and reliability of a traditional buckle. The versatility of the design enables greater range of motion and more efficient touring, while transforming your three-buckle touring boot into a four-buckle hard-charging free-ride boot.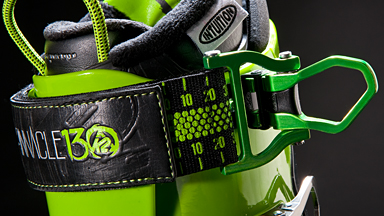 Sole
Integrated Tech Fittings – Tech fittings are fully integrated into the shell injection, instead of just the outsole pods. This Design guarantees greater strength, improved torsional stiffness, durability, and makes the outsoles compatible with both DIN - alpine and tech bindings.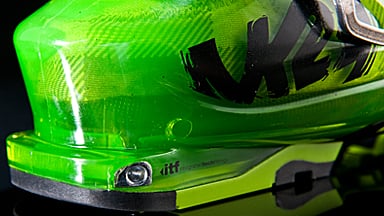 Replaceable DIN Compatible Outsoles – Dual-injected Thermo Plastic Rubber (TPR) with Thermo Plastic Utrethane (TPU) increases the life of your boots and provides secure footing whether walking on rock, ice, or stairs.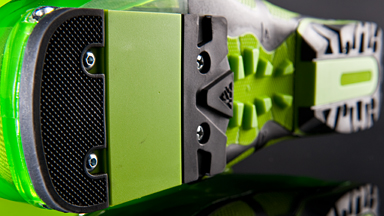 Padded Mid-Grip – Dual-injected Thermo Plastic Rubber (TPR) for added grip and traction while walking on rocks or riding on snowmobiles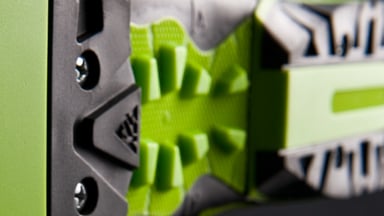 Additional Features
Powefuse SpYne™ – A rear co-injected "Y" shaped design that adds strength and power to the Energy Interlock, the PowerFuse SpYne maximizes fore/aft flex efficiency and lateral stiffness and sustained performance and responsiveness in all terrain. Because of the SpYne, K2 is able to optimize materials in the cuff and shell, eliminating excessive vibration in rough terrain.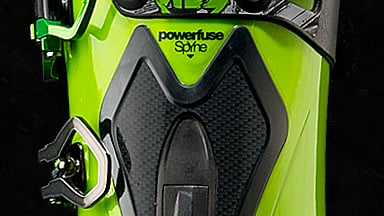 Fit Logix™ – Fit Logix™ is the bridge between your foot and the exterior features of K2 ski boots. Fit Logix includes the combination of diverse last offerings (97 mm, 100 mm, and 102 mm), a navicular punch that is built into the mold of our boots to alleviate pressure during ankle flexion, as well as an advanced collection of K2 INTUITION® liners, to deliver performance, comfort, and a customized fit. In addition, thanks to the strength of the PowerFuse SpYne, K2 is able to use a softer shell material while maintaining flex, meaning the boots are also easier to get on and off, perfect for those cold mornings in the parking lot.
Binding Compatibility – Flat non-slip soles with integrated Tech fittings are compatible with alpine, frame AT and Tech bindings.