Fit
102mm Influence Shell – The Full Tilt Influence shell is similar to the Original 3-Piece Design, but with it's own roomier 102 mm forefoot width and at a price that can't be beat.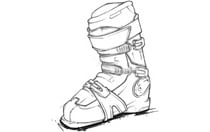 Easy On/Off – Tongue fully opens like a convertible, never blocking your foot. Slide your foot in and out easily with comfort in all temperatures.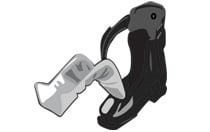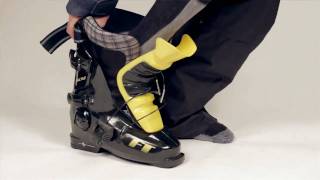 Flex
Flex Rating: 7 (1 Soft - 10 Stiff) – Medium firm flex - Reliable power & energy transfer with a smooth, natural ankle motion to eliminate shinbang! You can quickly change your flex by swapping out different # flex tongues.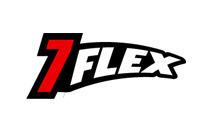 Ribbed Tongue – 100% Ribbed tongue enables smoother, more natural linear flex from your shin to your toe. The tongue bends like a flexible straw, never bottoming out while providing smooth rebound. Spread the word and ring the city bell: NO MORE SHIN BANG!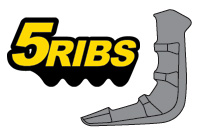 Infinite Pivot – Unlike traditional boot designs, the rear cuff of Full Tilt boots never bottoms out. It pivots infinitely forward with your calf for less shell distortion, no shin pain and more control.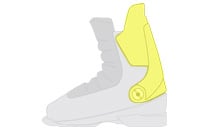 Adjustable Flex – The boot's flex is rated on a simple scale of 1-10 (10=stiffest). Change a boot's flex by simply switching the tongue (additional tongues sold separately).
Liner
Pro Laminate Construction – A combination of EVA foam layers quickly conform and mold to your foot. 4mm Open Cell foam is warm and comfy, 2mm Soft Density cross linked foam in between, and 7mm High Density Closed Cell foam is firm and responsive, to boot… pun intended!
Pro Intuition® Liner – The most power transfer and responsiveness of any Intuition liner®. All adult Full Tilt boots use authentic Intuition® closed cell foam that is body heat activated to mold 100% to your feet and shell during use, or can be heat molded by a shop in minutes.
Power Wrap – An additional layer of ergonomically shaped High Density Intuition® closed cell foam is wrapped around the outside of the upper liner to provide added energy transfer and horsepower to the shell.

J Bar – A J-shaped piece of foam is added to both sides of the ankle area to dramatically increase ankle hold, keeping your feet perfectly in place for precise control.

Shell Materials
Light Weight 3-Piece Shell Construction – Minimalist 3-Piece design eliminates the need for thick, heavy overlapping plastic or bolts for increased quickness & sensitivity, and it is up to 2 lbs / 900 g lighter than some alpine boots.
Buckles
Aluminum Ladder Buckle – The Ladder Buckle features an intuitive, easy to remember, macro-size adjustment, plus a micro-twist for fine adjustment with a light, easy-to-handle aluminum lever.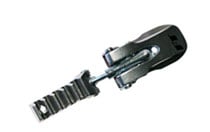 Cables – Cable closure works like a shoelace to eliminate dead spots for a smooth even pressure flex & fit.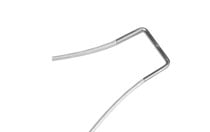 Power Strap
Power Strap – Nylon power strap gives you what you need to get the job done.
Sole
Active Boot Board – Soft rubber layer in the sole of the shell absorbs vibrations, impact and shock for a smooth ride.

Rubber Heel Sole – Replaceable natural rubber heel block for reduced heel slip when walking & hiking.

Additional Features
Customizable – Full Tilt boots are customizable - all parts are sold separately for unlimited personalization and repair using a standard Philips head screwdriver.