Fit
Boot mold enhances power, precision and comfort by matching 4 critical fit points: the heels, ankles, 5th metatarsals near your toes and the naviculars near insteps.
Anatomic Plug Fit featuring Contour 4 Technology – Krypton Shell Fit architecture integrates C4 concept. Anatomical interior shell contouring and innovative innerboot foot mapping construction shaped to accommodate 4 critical fit points
Flex
Flex index of 110 offers the responsive power transfer preferred by advanced skiers.
Adjustable Flex
Liner
Liners feature soft comfort foam around the rearfoot areas and tongues, and the toe boxes stretch to enhance comfort and fit.
Shell Materials
Bi-Injected Cabrio Design: PU Shell/Cuff – Innovative ski boot design architecture combining lower boot/cuff assembly open on top with an external tongue. Flex is smooth and progressive with support and control that is strong and precise.
Kinetic Response Tongue – Highly resilient polyamide (nylon) tongue provides enhanced sensitivity. Improves responsiveness and control. Interchangeable design
Stance
Twin canting adjusts the cuffs to fit the angles of your lower legs, levels the soles of the boots above the skis and offers a versatile range of adjustment.
Adjustable Forward Lean – To change the KR2 forward lean angle, Forward Lean control wedges may be inserted between the lower shell and cuff. Wedges are secured to the rear shell with a 3mm Hex Head Screw. Two different FL inserts: KR models with 4 mm insert = 11° (stock) KR models with 8 mm insert = 13° (in box)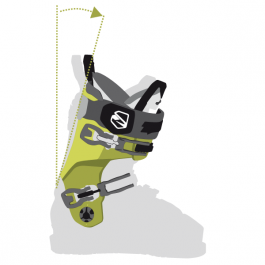 Center Balanced Stance
Buckles
F-500 Alu Buckles – 3 Microadjustable
Additional Features
Separate cuff, shell and tongue sections are joined together to create a smooth forward flex with precise side-to-side support.
Full length anti-shock footboard
Replaceable Toes/Heels