Fit
Last: 105 mm – The widest boot Dalbello makes. An excellent choice for those with wide and/or high volume feet.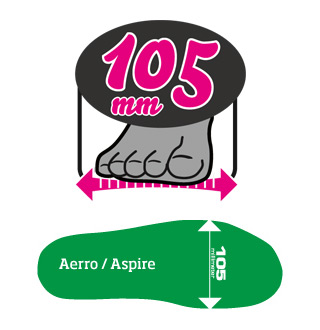 Low Contour Profile Cuff Geometry – Lady Cuff
Flex
70 Flex Rating – 70 is an outstanding choice for skiers seeking to improve their skiing skills.

Liner
Super Comfort Fit System – Provides all day comfort, warmth and performance.

Shell Materials
Classic Design – Classic 2 Piece Overlap design ski boots are the industry's most common design construction. These boots incorporate two structural elements - (1) a lower shell with overlapping and underlapping flanges that "wrap" to adapt to different volume feet and feet shapes securing the lower foot inside the ski boot, and (2) an upper cuff with over and underlapping flanges which, when closed, secure the lower leg and ankle inside the ski boot.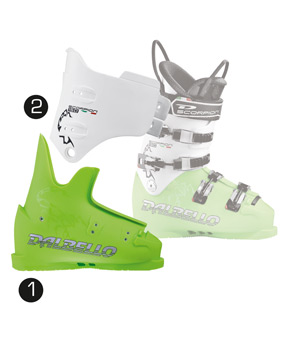 Bi-Injected, Easy Entry Overlap - Polytec Lite – Two different density materials fused into one structure to combine power (hard) with comfort and a convenient entry (soft)
Shell / Cuff – PTL Bi-Injected / PTL
Stance
X-Module Cuff Volume Expansion – Aspire models feature a removable cuff insert (X-Module Insert) that expands the boot top opening circumference approximately 5 cm and lowers the overall boot height by 1.5 cm
Ski/Walk Mode
Ski / Walk Mechanism – Mechanical cuff lock/unlock mechanism permits the cuff to hinge freely for walking, standing, and relaxing while standing upright.
Buckles
2 Microadjustable, 2 Macro TP R8 Aluminum Buckles
Sole
Bi-Injected Replaceable Toes and Heels – Replaceable toes and heels help extend the life of your Aspire 75 for long-term use.