Frame/Shock
ALUXX SL Aluminum Construction – Extremely lightweight framesets featuring high-performance strength-to-weight ratios, predominantly features 6011 alloy. A heritage of craftsmanship combined with unmatched manufacturing capabilities gives Giant the unique ability to monitor every step of the aluminum frame-building process. Through Giant's cutting-edge materials science, proprietary forming techniques, and attention to detail, we are constantly advancing aluminum performance to create bikes that are lighter, stronger and stiffer. The difference can be felt in the ride. Every aluminum bike bearing the ALUXX Aluminum Technology label must live up to the highest standards and meet the tightest tolerances of any aluminum frame in the world.
Advanced Forged Composite Technology (Upper Rocker Arm) – A state-of-the-art high-pressure molding process is used to produce complex-shaped carbon fiber components that are lighter, stiffer and stronger than similar components made from aluminum. This technology is used in critical performance parts such as Maestro Suspension rocker links.
170mm Maestro® Suspension – Whatever off-road adventures you seek, Giant's Maestro Suspension helps you make the most of your efforts. Control, traction, comfort, speed -- you get more of everything with Maestro. From fast and efficient XC bikes to long-travel downhill setups, Maestro is an adaptable full-suspension platform that offers smooth, active rear suspension for any type of trail and all kinds of terrain.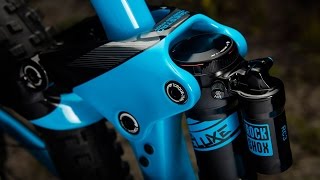 RockShox Super Deluxe Coil RT Remote – Remote rear shocks are no longer reserved to the XC elites – and Super Deluxe Coil RT Remote has already proven it with Cecile Ravanel's EWS title. Riders can conserve energy and accelerate faster by switching to the "Threshold" mode, and click back into "Open" for full shredding capabilities.
Shock Adjustments – Open or Threshold Modes | External Rebound | Coil Spring Adjust
Trunnion Mount – The latest Giant off-road models feature updated Maestro Suspension systems with a new Trunnion Mount shock and Advanced Forged Composite rocker arm. The Trunnion Mount allows for a longer shock shaft, which produces a lower leverage ratio and smoother ride performance. It also allows for shorter chainstays to improve quickness and agility on the trail. The Advanced Forged composite rocker arm weighs less than the previous aluminum version while being stiffer and stronger. Together, these innovations result in the following core benefits.
OverDrive – OverDrive provides up to 15 percent more torsional steering stiffness than straight steerer-tube designs. This translates into much more accurate steering input from a rider's hands, through the handlebar and stem, and down to the front wheel. Whether hammering uphill or carving through a corner, OverDrive transmits input directly to the front wheel for more precise handling.
Fork
RockShox Lyric RCT3 Solo Air – With a completely new chassis, featuring tapered legs and a taller brace for stiffness and light weight, and a collection of new technologies such as a retuned Solo Air spring with additional negative volume for a plusher initial stroke, Bottomless Token tunability in both Solo Air and Dual Position Air configurations, SKF wiper seals for lower friction and better sealing, and user tunable rebound damping via internal shims (same as BoXXer), Lyrik is built to inspire confidence and blur the lines of capability that limit all other forks in its class. Proven features include 35mm Fast Black upper tubes and an RCT3 Charger Damper with a new SKF cartridge seal to reduce friction and extended service intervals.
Fork Adjustments – Low Speed Compression | 3-Position Compression (Open / Pedal / Lock) | External Rebound | Air Spring Pressure
Drive Train
Shimano SLX 1x11 Drivetrain – A high performance groupset that delivers enhanced stability, maneuverability and shifting efficiency.
Brakes
SRAM Guide RS Hydraulic Disc Brakeset – Fast isn't about pure speed, it's about perfect speed. It's about knowing the right line and having the confidence to ride it. Flawlessly. The new SRAM Guide RS is precision at your fingertips, with a proven 4-piston caliper and innovative SwingLink™ lever technology that gives you more positive pad contact and increased braking authority. Light, crisp, clean and now compliments your SRAM drivetrain. Go faster. Now featuring the World Championship-winning S4 caliper with Bleeding Edge™ and Heat Shield technologies.
Wheel Set
Maxxis Shorty Front Tire – Today's World Cup downhill tracks are steep, technical monsters with ever-changing conditions. Maxxis pros needed a mid-spike tire that could handle dry, loose, blown-out corners as well as a bit of mud. The Shorty is that tire. A high-volume, dual-ply downhill casing makes the Shorty a more versatile option than a dedicated mud spike like the Wet Scream. Large, tall and slightly staggered side knobs penetrate loose soil to provide predictable, stable cornering at warp speeds. The alternating pattern of the center tread features widely-spaced knobs to clear debris, and their square shape offers plenty of braking bite. For downhill mountain biking in gnarly, mixed conditions, the Shorty can't be beat!
Maxxis High Roller II Rear Tire – The open and aggressive tread design gives the High Roller II excellent soil penetration and mud clearing ability. A square profile provides a solid, consistent feel across the knobs. Modified knobs on the shoulder and center improve braking performance and traction on hard surfaces. When gravity pulls you downhill, rely on the High Roller II to keep you upright.
Additional Features
Giant Contact SL Switch Dropper Seatpost – Trail conditions change in the blink of an eye -- transition from steep climbs to gnarly descents and never skip a beat with the all-new Contact SL Switch seatpost.
Shipping Information
Oversize Item – can only be shipped via UPS Ground within the continental U.S.