Frame/Shock
Carbon DMC-G Frame (165mm) – Enter DMC Gravity technology and a carbon repertoire for rides built to flow fast and smooth in rock-ravaged environments. Mountain-specific Devinci Carbon Monocoque G technology uses cross-hatched and unidirectional carbon fiber layers, bolstered by high-strength epoxy resins and finished with a blast of Nano powder additive. This Devinci-exclusive recipe equates to ultra-lightweight frames, fine-tuned for knockout strength. Stand on the pedals, batten down the hatches, and watch dirt get demolished. DMC G. World Cup annihilator and Steve Smith approved.
Split Pivot Suspension – Separates acceleration forces from braking forces. The result is a buttery smooth ride with hyperactive small bump compliance, increased traction and podium-crushing pedal stroke efficiency.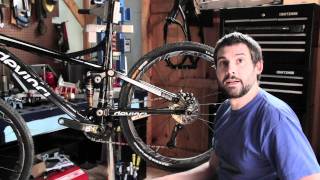 RockShox Super Deluxe RC3 DB Shock – The directive was simple. Engineer a shock that does for rear-suspension performance what Pike did for forks. Simple? Don't bet on it. A gamble? Absolutely. It required a complete change in the way we approach shock design. It meant focusing on performance first and leaving old constraints behind. And it gave us a clear path to develop the world's lowest-friction shock -- Super Deluxe. Metric sizing gives Super Deluxe significantly increased bushing overlap, which, together with a sophisticated new bushing profile, virtually eliminates friction in the shock. A new damper holds the shock high in its stroke and offers unparalleled traction. Unshackled from the old obstacles of shock design, Super Deluxe is free to tackle new ones -- on the trail. This changes everything.
Shock Adjustments – External Rebound | 3-Position Compression (Open, Pedal, Lock) | Rapid Recovery Rebound Damping
FRG Adjustable Geometry – 65˚ Low Setting / 65.4˚ High Setting
Integrated Di2 Battery Mount – To accommodate the addition of Shimano's Ultegra Di2 electronic shifting systems (sold separately).
Waterbottle Compatible – All Sizes
170mm Dropper Post – All Sizes
38T Chainring Maximum Clearance
Boost Spacing (Front & Rear)
Kevlar Reinforced Carbon Skid Plate
Carbon CS-Dual Density Chainstay Protector
Trunnion Mount Metric Shock
Fork
RockShox Lyrik RC – Simply put, the RockShox Lyrik is an absolute weapon for enduro riders everywhere. It makes more control at higher speeds on big burly terrain not only possible, but also addictive.
Fork Adjustments – Charger 2 Damper | External Rebound | Low Speed Compression from Open to Firm
Drive Train
SRAM GX Eagle™ 12-Speed Rear Derailleur – This new GX derailleur not only answers the Eagle™ drivetrain's need for greater capacity, but it's also the next evolution of SRAM's proven, 1x-specific X-HORIZON™ design. The larger, 14-tooth X-SYNC™ lower pulley allows for a 10- to 50-tooth cassette and also adds to Eagle's overall smooth-pedaling feel. The new Type-3 ROLLER BEARING CLUTCH™ features a smoother torque curve for a quieter, more consistent operation and feel. CAGE LOCK™ has been moved back and out of the way, protecting it from trail debris. And a redesigned, robust mounting system further improves the Eagle™ derailleur's performance and overall durability.
SRAM GX Eagle™ 12-Speed Shifter – The challenges of riding a mountain bike should be kept to roots, rocks, mud, trees, jumps, drops and breathing. Putting total control of your gear selection into the thumb of one hand, it's simple to find the right gear, right now. The GX Eagle™ trigger shifter is the control center of the Eagle™ drivetrain. Its internal works have been updated to include a 12th gear, and improved to enhance trigger feel, precision and durability.
SRAM GX Eagle™ Boost 148 Crankset – The SRAM GX Eagle™ crankset delivers consistent performance every time out. Featuring SRAM's X-SYNC™2 tooth profile chainring, the GX crankset is engineered for complete chain control. Each tooth's thickness is precisely toleranced and controlled to work seamlessly with the chain's inner and outer links.
SRAM GX Eagle™ 12-Speed 10-50T Cassette – Ride anywhere with this wide range XG-1275, 10- to 50-tooth Eagle™ cassette that provides the right gear. Fast on the flats. Control on the climbs. Dictate your own pace, anywhere. Only Eagle™ technology is the 1x drivetrain engineered for infinite freedom. FULL PIN™ technology uses lightweight, stamped steel cogs held together with high-strength stainless steel pins. The result: a cassette that's light and strong. The open design similar to X-DOME™ cassette aids in mud clearance, giving you cleaner shifting performance and longer component life. New X-GLIDE™2 improves both inboard and outboard shifting, as well as chain retention.
SRAM GX Eagle™ 12-Speed Chain – The GX Eagle™ chain is designed with SRAM's Eagle™ geometry, the GX Eagle™ chain features solid pin construction, Eagle™ PowerLock® and smooth, efficient shifting that you can count on every time out.
Brakes
SRAM Guide R Hydraulic Disc Brakeset – What's it going to take to ride that line? It's steep. It's rocky. You've passed it a hundred times. But not this time. With the all-new SRAM Guide R, you have the power. Proven 4-piston calipers give you smooth, one-finger control. Features like Reach Adjust let you dial it in just right. And Guide perfectly complements other SRAM components and gives you flawless performance on every ride. Now featuring the World Championship-winning S4 caliper with Bleeding Edge™ and Heat Shield technologies.
Wheel Set
Maxxis Minion DHF (Front Tire) – The Minion DHF was designed for the often loose and muddy conditions of aggressive all-mountain terrain. The DHF incorporates ramped knobs for low rolling resistance and channel-cut knobs to increase gripping edges, giving straight-line control and precise cornering.
Maxxis Minion DHR II (Rear Tire) – The Minion DHR II is a complete redesign. Acceleration, cornering and braking have all been improved. The shoulder knobs were borrowed from the legendary Minion DHF and then beefed up to handle duty as a rear tire. The center tread has been heavily ramped and siped to roll fast and track straight under braking. Pair the DHR II with the Minion DHF for the ultimate aggressive riding combo.
Additional Features
RockShox Reverb Stealth Dropper Seatpost – Don't let its familiar good looks fool you—Reverb is a whole new weapon. Its internals have been completely re-engineered to improve on its already legendary performance and to offer enhanced reliability: all the smallest details, down to the single seal, have been re-evaluated and updated to pass the hardest and longest durability tests. Additional bushing overlap also improves performance over time. This is the brand-new Reverb, engineered for the next-generation mountain biker.
Shipping Information
Oversize Item – can only be shipped via UPS Ground within the continental U.S.