Frame/Shock
Carbon DMC-G Frame (120 mm) – Enter DMC Gravity technology and a carbon repertoire for rides built to flow fast and smooth in rock-ravaged environments. Mountain-specific Devinci Carbon Monocoque G technology uses cross-hatched and unidirectional carbon fiber layers, bolstered by high-strength epoxy resins and finished with a blast of Nano powder additive. This Devinci-exclusive recipe equates to ultra-lightweight frames, fine-tuned for knockout strength. Stand on the pedals, batten down the hatches, and watch dirt get demolished.
Split-Pivot Suspension – Devinci Cycles was the first bike manufacturer to adopt Dave Weagle's patented Split Pivot technology. Today it represents the core of Devinci's full-suspension line-up. The genius of the Split Pivot suspension system is that it works in conjunction with you—the rider—for intuitive performance and a fully customizable feel. It harmonizes and maximizes bump compliance, traction, and efficiency—factors that are normally at odds with each other. The result is a buttery smooth ride with hyperactive small bump compliance and podium-crushing pedal stroke efficiency. The system is called Split Pivot because of its concentric rear dropout pivot built in line with the rear wheel axle, but there's more to it than that.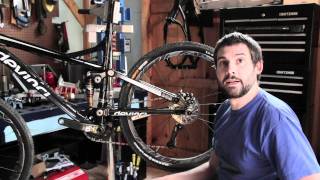 Fox Float DPS Factory Series Shock – Fox's highest performing inline shock with a design that offers excellent bump absorption and firm lockout. Factory Series models feature a Genuine Kashima Coating.
Shock Adjustments – 3-Position Lever (Open, Medium, Firm) with Open Mode Adjust | Rebound Adjust | Air Spring Pressure Adjust
Tapered Head Tube – Precise control and the best strength-to-weight ratio in the business.
Low Stand-Over Height – Delivering prime stand-over fit, and a super-low center of gravity for enhanced handling.
Ultra-Short Chainstay – Pin-it acceleration, combined with superior driver's seat handling.
Axis & FRG Adjustable – Perfect balance, minimum unsprung mass, and prime hi/lo geometry adjustment for perfect settings.
Internal Cable Routing – Provides protection from the elements and deluxe, aerodynamic styling.
Asymmetrical Construction – Milking the most performance out of every frame angle, improved torsional stiffness.
Boost 148 Standard – Stiffer rear wheel.
Reference Maximum Tire Clearance – Minion DHF 29" x 2.4"
Fork
Fox Float 34 Performance Elite Fork – Performance Elite forks retain the same adjustments, dampers, weight, and 7000 series aluminum upper tubes as Factory Series, but have black anodized upper tubes instead of Genuine Kashima Coat.
Fork Adjustments – 3-Position GRIP Damper (Open, Medium, Firm) / External Rebound / Air Spring Pressure
Boost 110 mm Thru-Axle – For a stiffer, more responsive front wheel.
Drive Train
SRAM GX 11-Speed Shifter – Get sharp, dependable shifting with the SRAM GX X-ACTUATION™ trigger shifter. Built for precise and swift shifting across SRAM's wide range 11-speed cassette, the GX trigger shifter brings championship technology to everyone.
SRAM GX 1x11 Rear Derailleur – Leveraging the legendary history of SRAM shifting, the GX 1x11 rear derailleur provides incredible shifting speed and precision. X-ACTUATION™ technology eliminates slop and shifting variation. ROLLER BEARING CLUTCH™ technology delivers maximum drivetrain stability—even through the most punishing terrain. And with CAGE LOCK™ technology, wheel removal and installation are easier than ever.
SRAM 11-Speed 11-42T Cassette – The PG-1130 cassette is light, durable and equipped with SRAM's super wide 11-42 gear range that's a perfect fit for any ride.
Race Face Æffect DM 30T Crankset – The Æffect crankset is designed to handle aggressive trail riding at a XC crank weight and attractive price point. Featuring the Cinch System with interchangeable spider options and Race Face's trusted 24 mm EXI interface spindle, the Æffect is a rock solid crankset for the modern XC and trail rider.
Brakes
SRAM Level TL Hydraulic Disc Brakes – Heavyweight performance in a lightweight package. Level TL packs the same XC and trail-optimized power delivery into a brake set that won't break the bank. This brake matches an alloy DirectLink™ lever to a lever body that contains the same technology found in the Level TLM, Level Ultimate and Guide series of brakes, for reliability and consistency you can count on.
SRAM Centerline Rotors – The new CenterLine Rotor was designed to keep the center of friction consistent throughout rotation thereby minimizing vibration offering consistent performance and a quiet ride.
Wheel Set
Maxxis High Roller II EXO TL | Front Tire – The open and aggressive tread design gives the High Roller II excellent soil penetration and mud clearing ability. A square profile provides a solid, consistent feel across the knobs. Modified knobs on the shoulder and center improve braking performance and traction on hard surfaces. When gravity pulls you downhill, rely on the High Roller II to keep you upright.
Maxxis Ardent TR | Rear Tire – An aggressive tread in high-volume casing, designed with great traction in mind. The Ardent doesn't forget the racer with large block-style side knobs offering numerous edges for high-speed cornering. The center tread, while ideal for braking and accelerating traction, also features ramped knobs to minimize rolling resistance. With a wide variety of size offerings, the Ardent captures every mountain rider's needs.
Shipping Information
Oversize Item – can only be shipped via UPS Ground within the continental U.S.