Shape
Slight Side-to-Side Concave
Construction
Resin-8 Hard Rock Maple – Epoxy resin is used to press all of our boards which make them lighter, stronger and longer lasting than normal water-based decks.
Trucks
180mm Slant Reverse Kingpin Trucks – Versatile and guaranteed performance, these trucks are typically used on models greater than 34" long. Reversible 50/54º hangers. 50º for stability at high speeds. 54º for tighter, more responsive turns.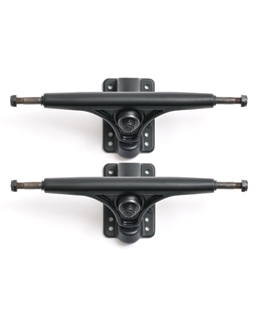 Wheels
70 mm 83a Performance Wheels – Globe's high-rebound urethane formulas are abrasion resistant, smoother, faster, and provide excellent grip.
Bearings
ABEC 7 Bearings – Standard on every Globe complete, Globe ABEC-7 bearings spin faster and longer which means less effort and enables getting up to full-speed faster. All longboard completes feature bearing spacers for quicker acceleration and higher rolling speed.
Grip Tape
Clear Broadcast Grip