Fit
Last – 102mm
Easy On/Off – The front of the shell opens a full 90° to slide your foot in and out with ease in all temperatures. Like putting on slippers!
Flex
Flex 6 Tongue
Flex Rating – 90
Ribbed Tongue – 100% ribbed tongue enables smoother, more natural linear flex from your shin to your toe. The tongue bends like a flexible straw, never bottoming out while providing smooth rebound. No more shin bang! Optimized for FT's new 45 degree cable positioning for the smoothest flex possible.
Infinite Pivot – Unlike traditional designs, the rear cuff never bottoms out. It pivots infinitely forward with your calf for less shell distortion, no shin pain, and more control.
Adjustable Flex – The boot's flex is rated on a simple scale of 4-12 (12 = stiffest). Change a boot's flex by simply switching the tongue.
Liner
Pro Wrap Liner – The Pro Liner's laminate is specifically engineered to provide the most energy transfer to the shell while maintaining warmth in a custom moldable fit.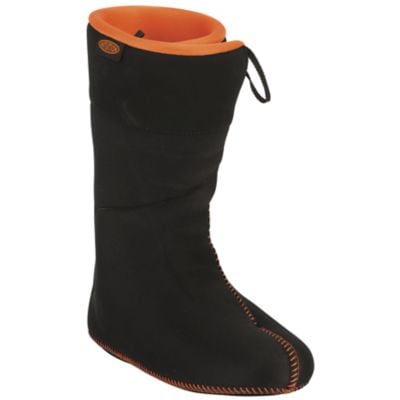 Foam Composition [Foot to Shell] – 4mm Open Cell / 2mm Intuition™ Medium Density / 7mm Intuition™ High Density
Shell Materials & Design
Evolution Shell – The Full Tilt Evolution shell adds much needed depth to the Full Tilt line. Designed for those with a wider foot, the Evolution shell incorporates a higher volume fit and a 102mm last.
Stance
3-Position Forward Lean Adjustment – Tool-less forward angle adjustment thanks to included forward lean wedges.
Removable Velcro Wedge Spoiler
Buckles
Ladder Buckles – The ladder buckle features an intuitive, easy to remember, macro-size adjustment, plus a micro-twist for fine adjustment with a light, easy-to-handle aluminum lever.
45° Heel Lock – Keep heels where they belong. Placing the middle buckle at an optimal 45 degree angle creates a solid lock for the heel to stay put when pressuring the tips and tails of the skis.
Power Strap
Reinforced Cinch Strap
Sole
Dual Material Toe & Heel – A firm TPU and a softer material combat wear and keep your feet underneath you on any surface.
Mid Grip – Whether you are climbing grated stairs or scrambling on top of a mountain, a dual material or single material midgrip gives you the confidence to stay on your feet.
Replaceable Outsoles – Easily replace chewed up soles.
Additional Features
Shock Absorber Boot Board – Soft rubber layer in the sole of the shell absorbs vibrations, impact and shock for a smooth ride.