Fit
Last: 102 mm – This versatile, wider forefoot last fits a wide range of feet comfortably, with a closer fitting ankle and heel pocket to prevent travel inside the boot.

Contour 4 Shell Fit – Contour 4 Technology is a revolutionary technological advance in performance ski boot fitting. The anatomical contours of the inside sidewalls of the boot-shell, as well as the innerboot lasts, are precisely "mapped" to the shape of the typical high performance skier's foot. A little extra "space" is molded into the inside of the boot shell at 4 critical fit points: ankle, heel, 5th metatarsal, and navicular.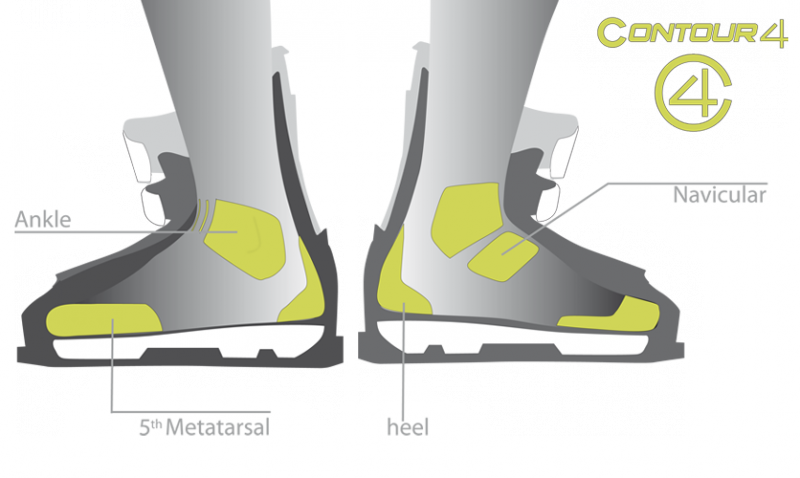 Low Contour Women's Profile Cuff – Female boot models with a removable cuff insert allow to expand the boot top opening circumference approximately 5 cm and lowers the overall boot height by 1.5 cm.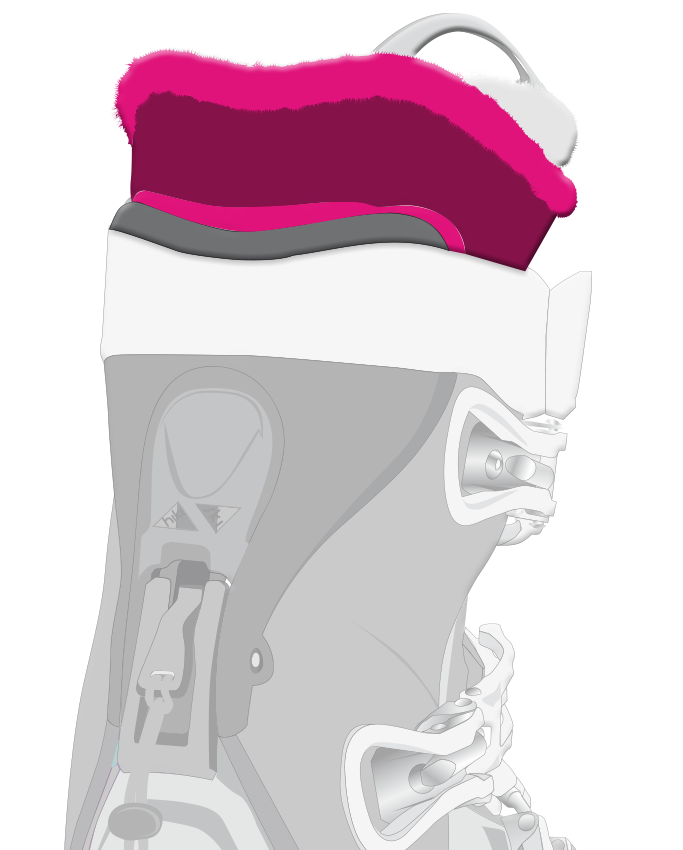 Cuff Volume Expansion – Select models for women feature a unique two piece boot cuff construction that can accommodate a wide variety of leg calf volumes or tibia lengths by removing the insert module. Removing the X-MODULE expands the boot top opening circumference by approximately 5 cm, and lowers overall boot height by approximately 2 cm.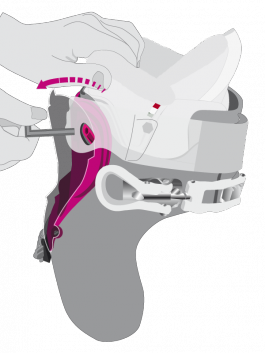 Tapered Rearfoot Fit – Dalbello builds its women's boots on carefully crafted shoe forms (lasts) that are engineered to provide a unique fit and size profile optimized for a women's unique foot characteristics. Dalbello's "Lady Lasts" are developed to comfortably fit the contours the foot and to provide support and cushioning for all day comfort. Compared with men's last, they are narrower in the heel, proportionally wider in the forefoot, and have a higher instep.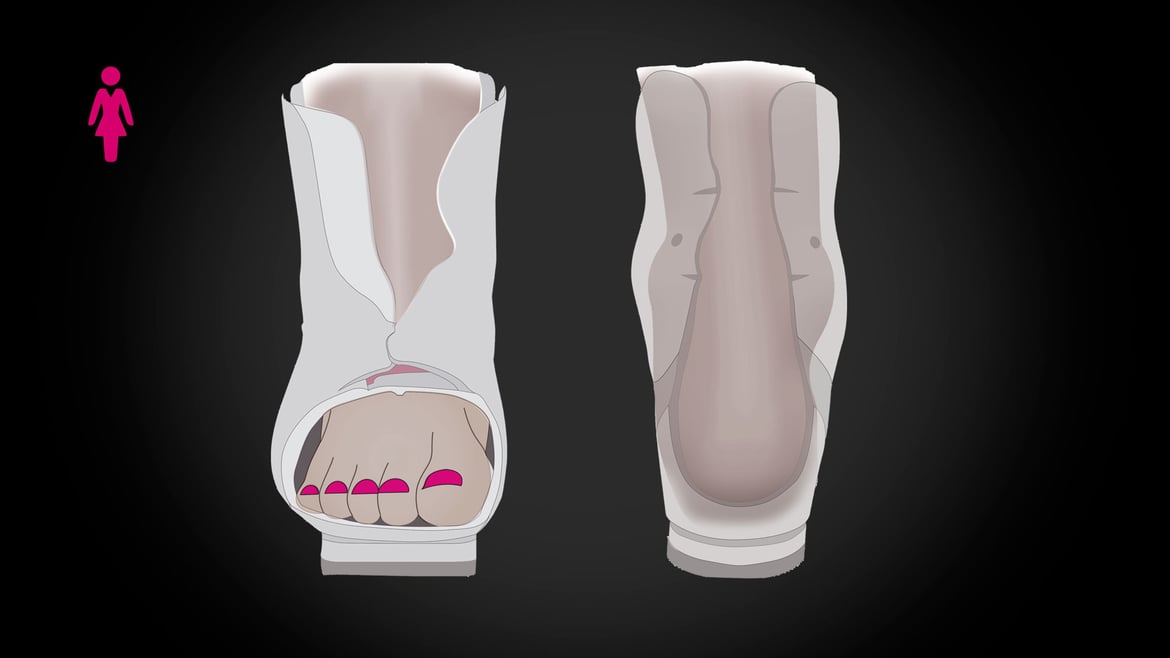 Flex
Flex: 95 – High end performance and power transmission without feeling overbearing.

Flex Adjust – Boot forward flex characteristics may be adjusted to suit skier's weight, skill level, and snow conditions.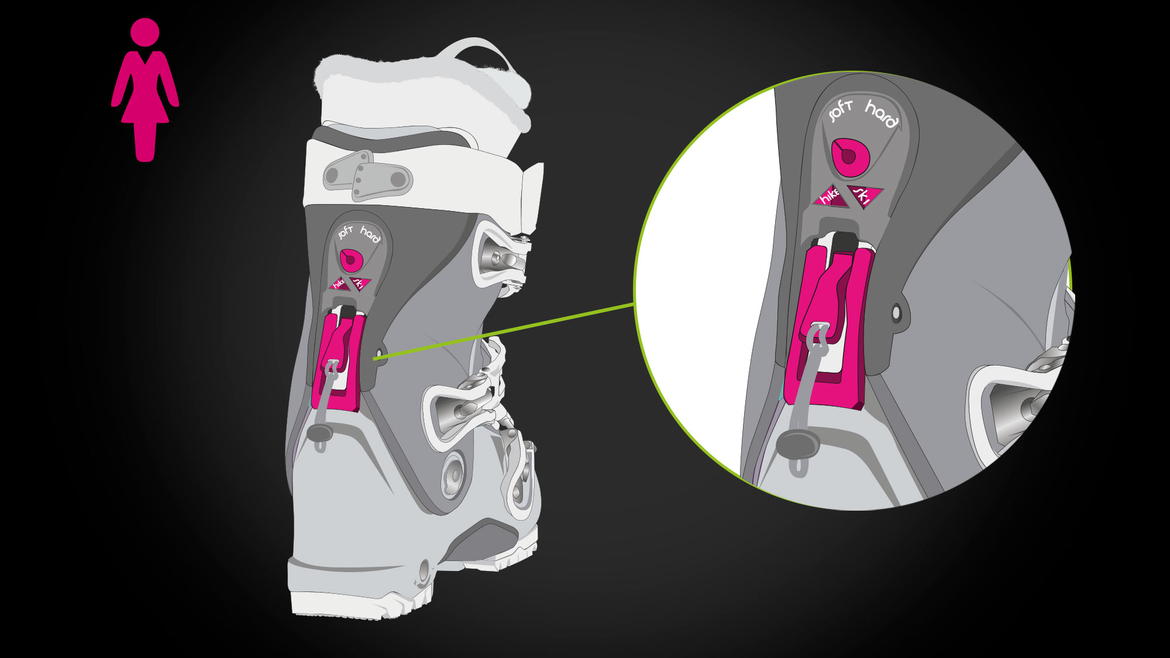 Liner
Women's ID Now – An overlapping high and soft density Intuition EVA foam liner, pre-molded to fit instantly. Thermo moldable in 6 minutes.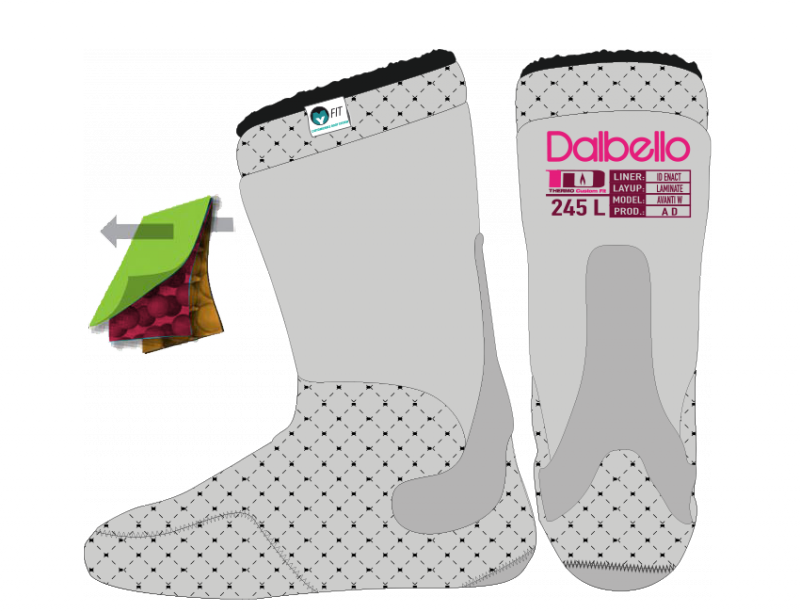 Shell Materials & Design
Irfran Polymer – Irfran is a high quality Polyolefin with a % mix of rubber that gives it great performance. It has a low stiffness variance between high and low temps and good rebound. It is 30% lighter than polyurethane.
Cabrio Design Architecture – Dalbello's 3 Piece Cabrio Design architecture has been the cornerstone of their performance, all mountain and freestyle models for more than a decade. This unique construction combines a 3 piece construction assembly - shell/cuff/tongue - that comfortably secures the foot and lower leg while optimizing smooth and progressive flex. Dalbello's Cabrio models provide the ultimate in responsive performance to ski your best. Cabrio Design permits the use of stiffer and more rigid plastics in the lower shell. This strengthens the support around the foot and lower leg providing quick response and precise transfer of power to the ski edges. This design also prevents the lower shell from distorting and bulging as the boot flexes, making the boot more smooth and stable at high speeds and on irregular terrain.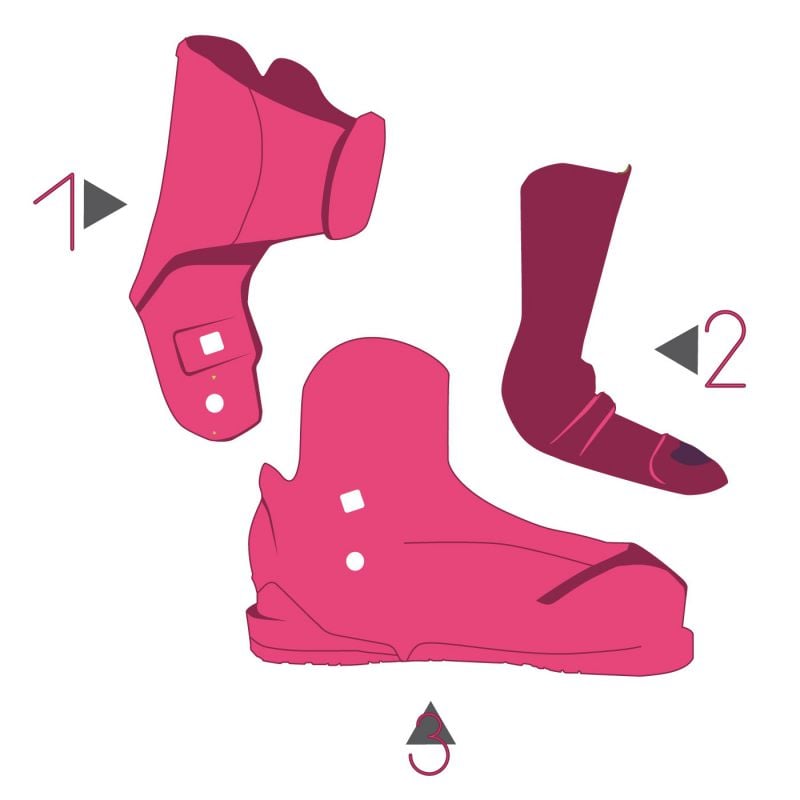 Stance
Canting (Shaft Alignment) – The pivot points allow proper flexion of the ankle, a smoother forward flex and a more natural stance.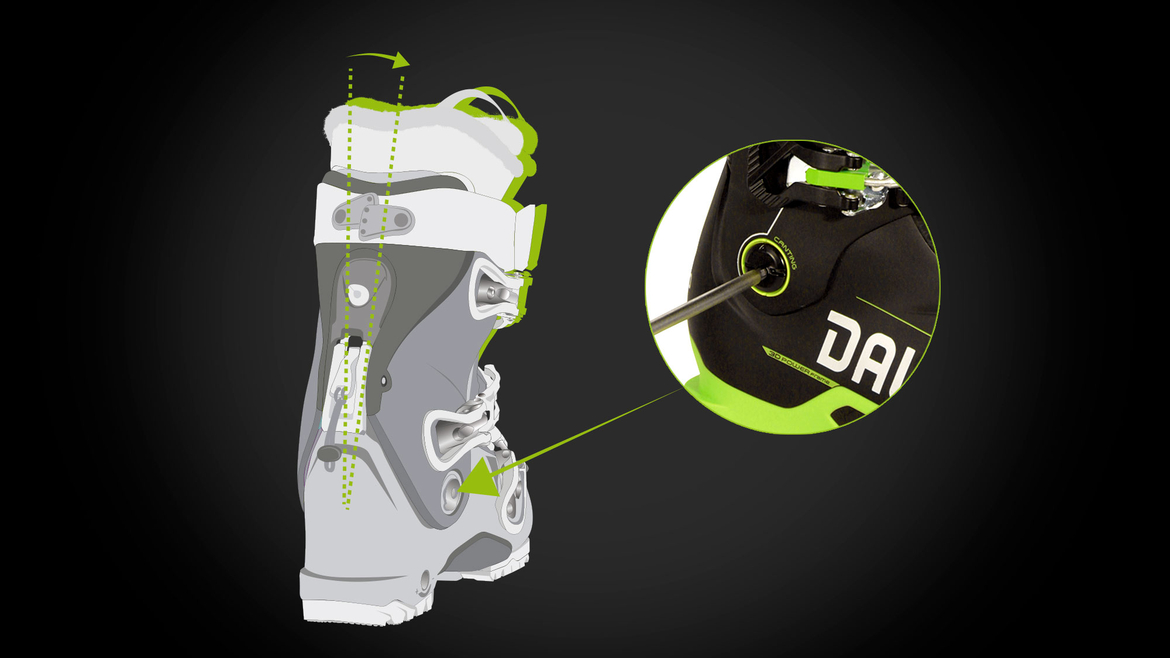 Ski/Walk Mode
Ski/Hike Mechanism – As the burly cuff lock mechanism frees the upper cuff from the lower shell a long range of motion for functional hiking and climbing is guaranteed. Due to the unique Cabrio design it doesn't contain any compromises on the skiing performance.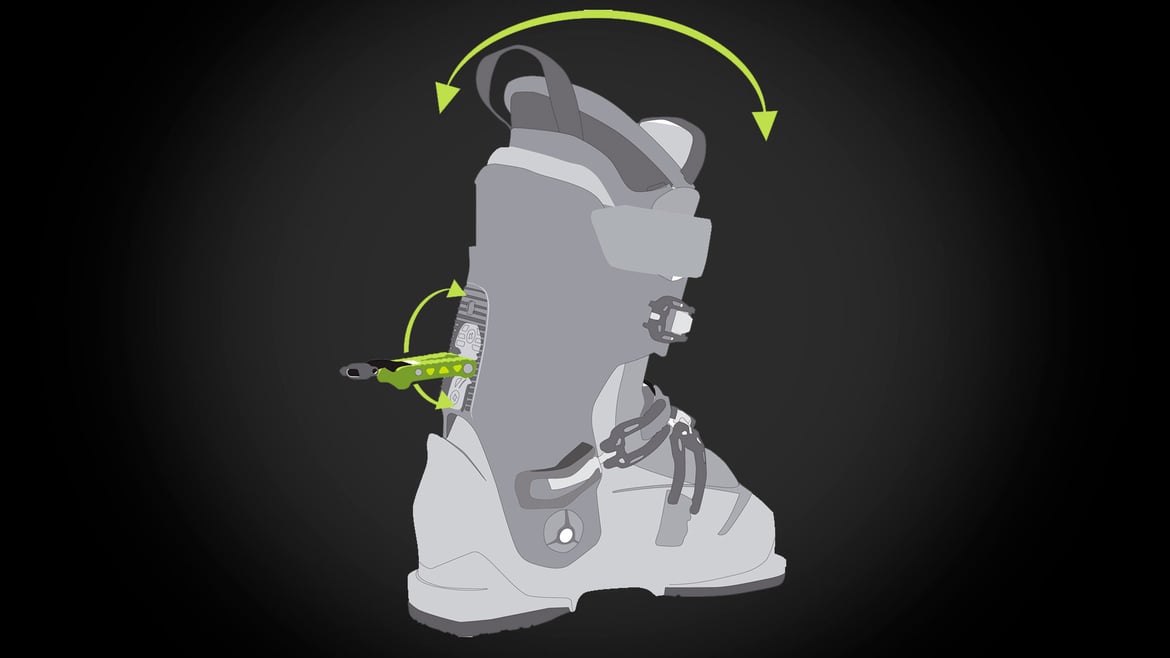 Buckles
Micro-Adjustable Aluminum Buckles – A simple turn of a buckle! Micrometer buckles are easy to use for easy fit customization.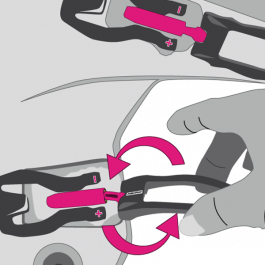 Dynalink Rearfoot Retention – Dynalink is an independently functioning heel/instep closure band assembly that secures the skier's foot in the middle and rearfoot sections of the ski boot. During boot flex, the Dynalink band does not permit the foot to slide forward or the heel to lift lifting inside the boot shell.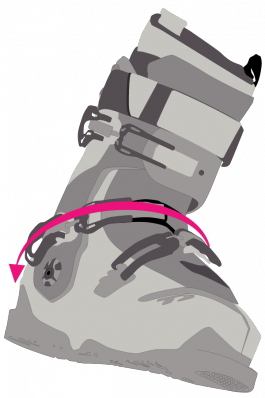 Power Strap
Velcro Power Strap
Sole
Replaceable ISO 5355 Alpine Soles
Grip Walk Outsoles [Sold Separately] – Provides increased safety and improved natural roll thanks to a curved rubber sole and includes a high-profiled, slip resistant sole.