Frame/Shock
Carbon + Alloy Frameset – Carbon Front & Rear Triangle + Alloy Upper Link.
JS-Enduro Link Pivot System – JS Tuned uses two short, counter-rotating links that offer the ability to fine-tune shock rates and wheel path in perfect harmony to create a balanced, active suspension system that climbs and accelerates as well as the system descends.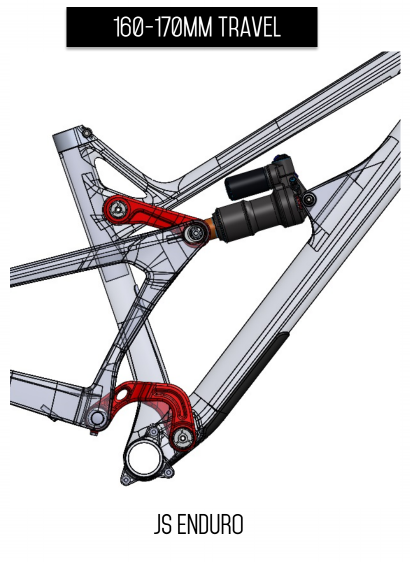 RockShox Monarh Plus RC HV – Monarch Plus provides traction-gaining suppleness, giving you more control over any type of terrain – all in a lightweight bombproof package. Proven Rapid Recovery, DebonAir and Solo Air technologies come standard for this lightweight big hitter. Now with twice the rebound range, Monarch Plus allows you to take your riding to levels you never thought possible with a short and mid travel air shock.
Shock Adjustments – 3 Position Lever w/ Open Mode Adjust | External Rebound | Air Spring Pressure
Internal Sleeve Cable Routing – For derailleur, brakes, and seatpost housing.
Chainstay / Seatstay Flak Guard Armor
Downtube Flak Guard Armor
ISCG 05 Mount
Fork
RockShox Lyrik RC Solo Air Boost – With a completely new chassis, featuring tapered legs and a taller brace for stiffness and light weight, and a collection of new technologies such as a retuned Solo Air spring with additional negative volume for a plusher initial stroke, Bottomless Token tunability in both Solo Air and Dual Position Air configurations, SKF wiper seals for lower friction and better sealing, and user tunable rebound damping via internal shims (same as BoXXer), Lyrik is built to inspire confidence and blur the lines of capability that limit all other forks in its class. Proven features include 35mm Fast Black upper tubes and an RC Charger Damper with a new SKF cartridge seal to reduce friction and extended service intervals.
Fork Adjustments – External Rebound, Low Speed Compression to 'Firm'
Drive Train
Shimano XT 11-Speed Shifter – Ergonomically designed for prolonged enjoyment. Simple, adaptable cockpit. 20% lighter rear shifts. Consistently stable shifting. New hyper low-friction coating technology. Long lever body. Anti-slip on main lever thumb operation.
Shimano XT 11-Speed Rear Derailleur – Rider tuned for sharp and silky shifts. Light shift operation with 20% less effort. Chain stability improved. New shift cable with hyper low-friction coating technology. Easy-to-adjust chain stabilizer. Efficient pulley teeth design. New Shadow design with optimized slant angle for stable gear position.
Shimano XT 11-Speed 11-46T Cassette – Ride anywhere with smooth and precise gear changes. Optimized gear combination and gear ratio. Rhythm step gear progression. Improved driving efficiency and stable shifting. Optimal balance of light weight and durability. Combination of aluminum (40T) and steel gears.
Race Face Turbine 32T Crank – Designed specifically for cross country racing and trail riding, Turbine sets the benchmark for performance aluminum cranks and continues the Turbine legacy. Featuring Race Face signature I-Beam arm profiling and Race Face's smooth shifting Turbine rings. The Turbine is an incredibly light and stiff performance crankset.
Brakes
Shimano XT Hydraulic Disc Brakeset – Consistent, predictable and powerful. Rider tuned brake system. Integrated design. More stable brake performance in various conditions without a change in lever position. High power and controllable braking for all MTB riding styles.
Wheel Set
Maxxis High Roller II TR Tires – The open and aggressive tread design gives the High Roller II excellent soil penetration and mud clearing ability. A square profile provides a solid, consistent feel across the knobs. Modified knobs on the shoulder and center improve braking performance and traction on hard surfaces. When gravity pulls you downhill, rely on the High Roller II to keep you upright.
Additional Features
RockShox Reverb Stealth | 31.6mm x 420 mm, Zero Offset, 150 mm of Travel – Don't let its familiar good looks fool you—Reverb is a whole new weapon. Its internals have been completely re-engineered to improve on its already legendary performance and to offer enhanced reliability: all the smallest details, down to the single seal, have been re-evaluated and updated to pass the hardest and longest durability tests. Additional bushing overlap also improves performance over time. This is the brand-new Reverb, engineered for the next-generation mountain biker.
Shipping Information
Oversize items can only be shipped via UPS Ground within the continental U.S.