Lens
6-Base Polycarbonate – Spy's spherical sunglasses are available in 4, 6, 7, and 8-Base."Base Curve" refers to the amount of "wrap" that a lens has, which in turn affects the curvature of the frame. A 4-Base style will have a flat, boxy appearance, while an 8-Base style will provide a sleek, wraparound fit.
Happy Lens™ – Spy Happy Lens™ technology lets in the good long-wave blue light that promotes balance in the body's circadian rhythm, blocks the harmful bad rays, and combines crisp, color contrast-enhancing lenses and Trident™ Polarization for the ultimate viewing experience.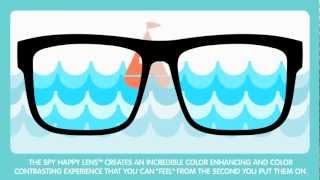 Frame
Propionate
Frame Measurements (E x B x W) – 57 x 17 x 145 mm
Safety Standards
100% UV Protection – Blocks 100% UVA, UVB, UVC rays
Proposition 65 Warning for California Consumers
This product may contain chemicals known to the State of California to cause cancer, or birth defects, or other reproductive harm.