Rocker Type
Freeride Rocker – Larger tip rocker combined with a shorter, lower tail rocker and camber underfoot. Great for driving the ski while maintaining the stability needed to remain confident at speed.

Flex
Freeride Flex | 7-9-8 – Solid underfoot platform, stiffer tail, with a progressive flex into the tips. A directional flex for skiers who know how to drive a ski.
Sidecut
Reverse Elliptical Sidecut – RES is a large, convex elliptical arc that runs from boot center to tip taper, combined with a long, traditional radius in the tail. The goal is simple: create the best soft snow sidecut and shape available.
Shape
Asymmetrical Tip Taper – A longer, extended tip taper on the outer edge of each ski combined with a shorter tip taper on the inner edge of the ski. ATT enhances the ski's ability to smear in soft snow by removing surface area from the outside edge of the uphill ski during a turn in soft snow. The inside edge remains supportive and allows for the downhill ski to complete a full turn as originally designed.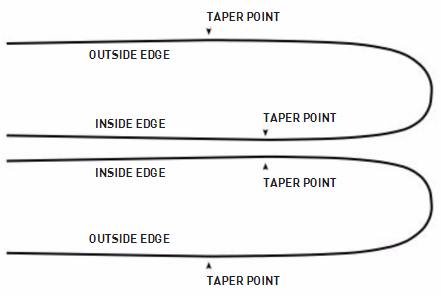 Core
Bamboo Core – The heart of every pair of ON3P ski is a FSC-certified, vertically laminated, 100% bamboo core. Bamboo provides a responsive, yet damp characteristic to their skis that everyone has grown to love.
Laminates
Carbon Fiber – Provides strength, rebound, responsiveness, and stiffens torsionally and longitudinally.
Tri-Axial Fiberglass – 19 oz or 22 oz tri-axial fiberglass provides torsional and longitudinal stiffness, ensuring proper edge hold and power transfer.
Extra Wide Binding Mat – An additional layer of fiberglass mat prevents pullouts. To ensure proper coverage for all types of hole patterns, ON3P runs their mat full width on every ski they make. Their binding mat is double-biax fiberglass, increasing torsional stiffness.
Vibration Dampening Strips (VDS) – VDS rubber is applied to the edges and sidewalls, acting as a shear layer that provides improved bonding strength and vibration dampening.
Sidewalls
UHMW Sidewalls – UHMW (Ultra High Molecular Weight Polyethylene) is an incredibly strong material, has a higher abrasion resistance than steel, and resists cracking.
Base
1.8mm 4001 Durasurf Sintered Base – ON3P's Durasurf 4001 base material provides their skis with better glide and protection from damage compared to any other sintered and extruded base material, and is 50% thicker than the industry standard.
Edges
2.5mm x 2.5mm Extra Thick Edges – ON3P uses a 3/4 wrap for their 2.5mm x 2.5mm Rockwell 48 steel edges. The 3/4 wrap allows the tips and tails of the skis to flex, decreasing the risk of delamination.
Graphics
Nylon Topsheet – Sublimated nylon topsheet is chip-resistant to ensure you always look your best.
Additional Features
Made in Oregon – Every single pair of ON3P skis is built by an ON3P employee in their Portland, Oregon factory. No shortcuts of OEM here -- they do it themselves. Design, build, sell.
Binding Compatibility
We recommend a brake width equal to or at most 15 mm wider than the ski waist width.