Rocker Type
Tapered Rocker – A lengthened tip shape where the rocker meets camber and the sidecut starts

Sidecut
Tip/Tail Taper – The neutral sidecut length at the tip and tails' widest dimension.
Shape
Backcountry Powder Shape – These are the skis to take you away to that special place most skiers only dream of.
Twin Tip – The tail of the ski is also upturned to allow for switch skiing and landings.
Asymmetrical – A directional shape that gives the ski a more consistent feel
Core
Hi-Lite Core – A blend of poplar and beech makes Hi-Lite Cores snappy and lightweight with enough substance to drive wider skis in soft snow.
Laminates
Sandwich – Layers of wood and fiberclass are sandwiched together to create the highest performance ski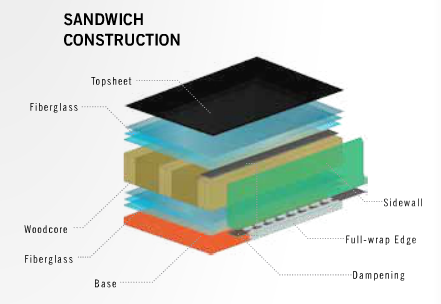 Base
Sintered Base
Purl Wax – Purl Wax is based out of Colorado and is made from renewable and natural sources. 4FRNT chooses to wax their bases with Purl Ice-9 wax because it is 100% biodegradable, petroleum free, and keeps nasty PFCs out of human bodies and watersheds.
Edges
Full-wrap edge
Graphics
Art by Jacob Van Leeuwen
Additional Features
Snow Sports Recycling Program – This program collects old ski gear such as skis, boots, poles and various other equipment and grinds up the material for re-purposing. The White Room contributes all of its fiberglass and wood scrap from cutting the skis out once they come off the press.
Binding Compatibility
We recommend a brake width equal to or at most 15 mm wider than the ski waist width.