Rocker Type
3-Stage Rocker – Slingshot's most aggressive rocker for maximum vertical pop.

Flex
Medium
Shape
Elliptical Concave – Concave bottom shape designed to optimize edge-to-edge response.
Rails/Edges
Slingshot Fusion Sidewalls – Slingshot transferred the same technology found in high durometer urethane skateboard wheels into the rail of all their boards. Slingshot's innovative manufacturing process literally infuses the rail into the board cores in one single shot, producing unrivaled dampening and durability.
Taperwall – A step-down rail delivers optimum edge control, sound handling in choppy water, bomber impact resistance and added stability at speed. From the belly of the board, it tapers off in thickness acting as a molded fin when the board is on edge.
Core
Atomic Core – Locally farmed from sustainable forests, Slingshot's all-wood, ultra lightweight core provides the liveliest feel ever. It features vertically laminated stringers and custom molded channels. There is no better core material for achieving the best flex performance and durability in a board than full wood.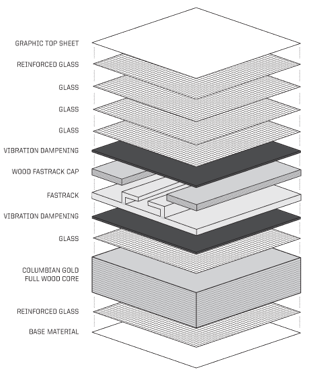 Laminates
Resin X™ – This is the latest in high-tech organic urethane resins. What Resin-X has that epoxy and polyester resins don't is an exceptional flex memory that can withstand longer flex cycles and superior vibration dampening and increased elongation without failure. All combined, these features store a higher rate of loaded energy, insane durability, and the best UV-resistance on the market. Resin-X is a low-VOC (volatile organic chemicals) resin and the greenest on the market.
Base
ES Base (EverShred) – Ready for impact in the park, or any other strange places you find yourself shredding in.
Fins
(4) 6" x .75" Black Wake Fins
Additional Features
Bomber G10 Fortified Fastrack – New for all 2016 Slingshot wakeboards is a revamped version of the industry-first Fastrack mounting system. The fortified G10 Fastrack is inlaid deeper into the board than the previous system and is locked in place by a thick layer of G10 - an insanely strong glass/epoxy composite. The result is a significantly stronger and more resilient Fastrack system built to withstand the ever-changing demands of the world's most progressive riders. The upgraded G10 Fastrack layup is Slingshot's answer to the increasingly hard-core punishment many riders are dishing out to their boards.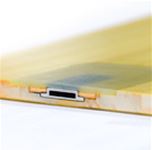 Future Response Technology – Provides more pop, softer landings and increased rail riding performance.
4D Graphics – Utilizing cutting-edge graphic technology, every board features unique graphics and dimensional depth highlighting the core. By combining digital with hand crafted art, Slingshot is able to create boards that have a true sense of depth that is unlike anything else. No two boards look exactly the same.