Rocker Type
3-Stage Late Rocker | 9.6° – An exaggerated rocker line with a later arc and higher degree provide a more straight up explosive pop. This style of rocker creates more of an instant explosive buck off the wake for riders that go behind a big boat wake, but also gives a solid kick to those behind smaller wakes.

Hull
Deeper Side Vents
Rails/Edges
Speedwalls – Vertical poured urethane allows for greater top water speed and offers a durable bumper from those floating unforeseen obstacles.
Krypto Cable – Different fibers are brewed up and then woven together to make a stronger compound. The Krypto Cable surrounds the profile of the board and is fused together with the core. Combined with Ronix's monocoque laminated glass, this cable makes the sidewalls the strongest part of the board - not the weakest. Available on every series.
Core
Timebomb Construction – The most explosive core made by Ronix - every jump feels like a double up.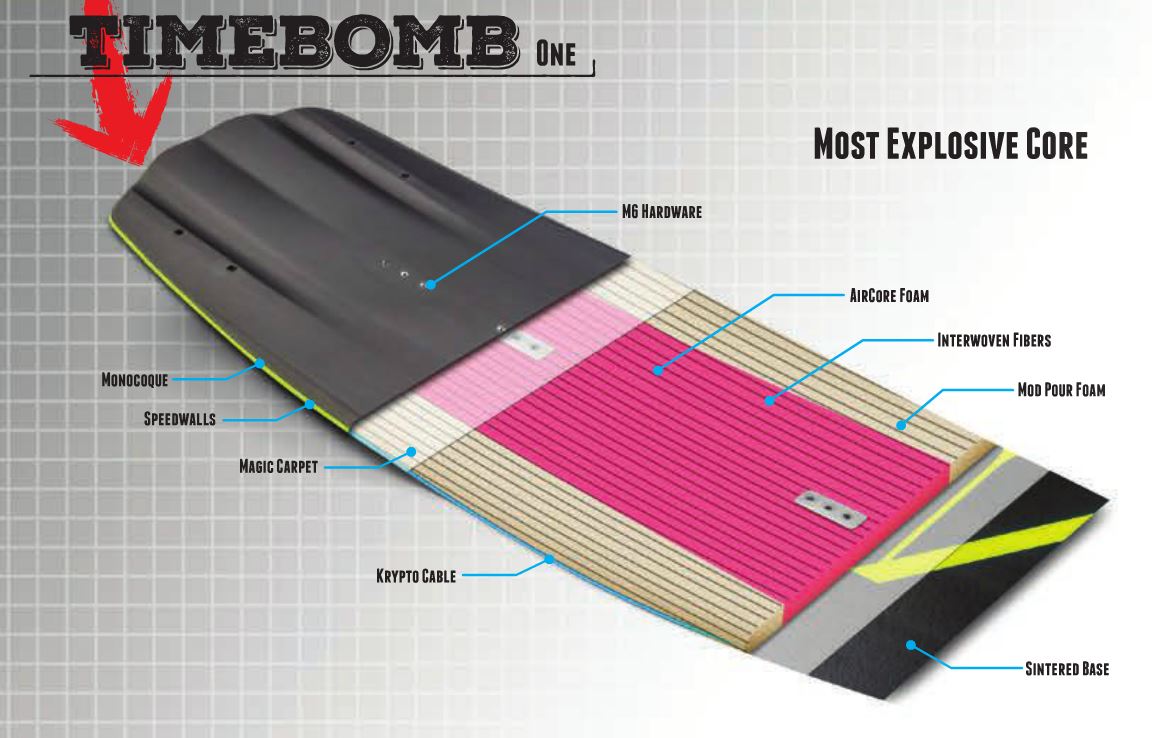 Mod Pour Foam – This ultra stiff, lightweight and demanding alternative foam is made from Ronix's exclusive blend of atoms. The highest strength to weight ratio Ronix has ever tested, this is hands down their most refined recipe for foam to date.
Air Core 2 – In addition to having the least amount of swing weight, this foam packs a mean punch in the lively department, and has more contact and feel for boat riding than its predecessor.
Laminates
Magic Carpet – Ronix's secret formula of fiberglass materials woven together to allow just enough resin to bleed through and adhere to the core.
Interwoven Glass / Carbon – A revolutionary new blend and the first time that carbon is actually woven together with the glass - the result is the fibers working in unison and not independently. More feedback with the water from a stiffer lay up.
Monocoque – A wrapped glass from the bottom to the top so the flash line is no longer the weak point of the board - but is now the strongest. A more durable construction and a torsionally stiffer ride.
Base
Sintered Base – The most durable non-stick base material Ronix has ever tested on rails without loosing any glide speed on the water.
Fins
4 Fiberglass 1.0" Ramp Fins and 4 .8" Free Agent Fins
Additional Features
M6 Inserts – A higher thread count means more hold at a shallower depth. So now Ronix can go to thinner profiled boards with a shorter insert without sacrificing boot lock down. The result is boards with more feel and contact on the water.