Features
Hyperflex Frame Concept – Hyper-flexible and light with an ergonomic binding, the Symbioz adapts to the unevenness of the terrain to give extraordinary traction. The inserts provide elasticity and lightness and offer a feeling of freedom and ease.
Carbon Reinforcements – Carbon reinforcements offer superb flexibility; they store energy during the bending phase and restore it at the end of the stride to increase stride power and reduce effort. They act dynamically during every part of the stride. Distortion of the Symbioz frame is progressive, responsive, precise and uniform in both the bending and twisting phases. Carbon reinforcements reduce vibration and give greater muscle relaxation and the feeling of freedom and ease.
Hourglass Shape – TSL snowshoes combine exemplary comfort with maximum performance in all snow types. The hourglass shape lets you walk naturally and provides perfect grip.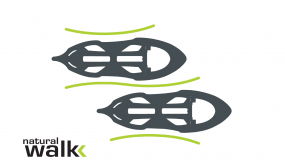 Crampons – Whether on flat or inclined surfaces, initial contact with the snow is made using these 2 two-way, stainless steel tips positioned beneath the base of the foot.
Front Grip – A sharp, multi-tooth grip for maximal traction on steep inclines. Made from stainless steel, it is sure to stand the test of time.
Vertical Blades Built into Frame for Added Traction and Control
Bindings
Flexible Bindings Provide High Level of Foot Flexibility
BOA® Fit System – The BOA® Fit System provides a dialed in, precision fit that enables faster, more powerful directional changes through a seamless connection between equipment and body. Providing power without compromising precision, the BOA® Fit System delivers more explosive action and unparalleled accuracy.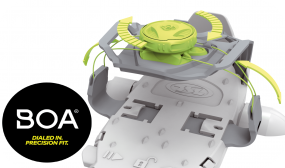 Lateral Adjust – Greater comfort with TSL's patented side adjustment system that will accept any width of shoe to give maximum foot surround.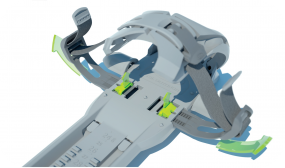 Ankle Pre-adjust – Enables you to center the comfort pad on your instep and permanently set its position.
Lock Adjustment – Simply press the lock adjustment buttons and slide the heel piece to the desired size and it will be ready for use on all future outings.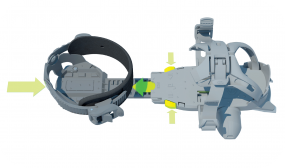 Easy Ascent Heel – Climbing bars make walking easier during long uphill climbs and reduce calf muscle fatigue. The flotation is activated by simply pushing it with the pole, so you don't have to bend down.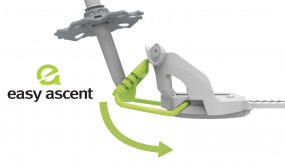 Sound and Shock Absorbing System – Nothing is more disruptive than walking noisily in silent countryside. TSL has solved this problem with their patented sound and shock absorbing system.