Rocker Type
NoHang-Ups Rocker – Flat camber diamond under foot for control and pop with 3D Continuous Curvilinear Rocker in the nose and tail for easy pressing and playfulness. Perfect camber for progression.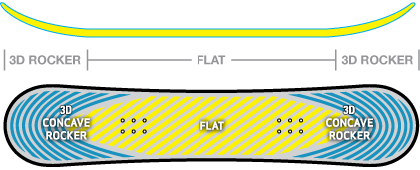 Shape
True Twin – Everything from the center of the board out towards the nose and tail is exactly the same. Perfect for riding switch
Core
Pop Core Matrix – Two zones of Low density wood paired with a body of responsive poplar for added versatility. Smooth and fun for playfulness and snappy and poppy for all mountain riding

Bambooster Technology: Dual Line – Two parallel rods of bamboo are milled into the core. Using bamboo is a natural way to load up energy which gives you the snappy and full responsive pop for doing ollies.
Laminates
StraightBiax Laminate – Laminate that optimizes smooth flexing and is designed for freestyle riding

Base
Die-Cut Base – Base color displayed may not be available. Base colors may vary.
XTRD Base – Standard base fast enough for most riders and durable enough for everyday use while still strong and easy to maintain
Edges
Quickrip Sidecut – Two additional mid-board contact points between off-set sidecuts for added grip at high speeds. Or, engage the inner contact points at slower speeds for a playful, shorter feeling board with control. QuickRip is a Rome signature technology for power when riding fast and extra fun when slowing things down.