Rocker Type
FreePop Rocker – A flat camber-and-rocker combo where the flat camber section extends 5 cm wider than the inserts. The extended flat section gives more versatile response and allows for edge control and smooth landings, while the rocker in the nose and tail give float in powder and smooth style on rails.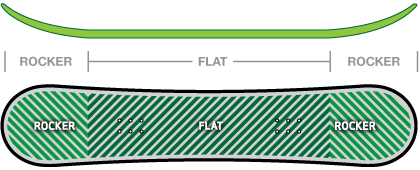 Flex
Flex Rating: 5 (1 Soft - 10 Stiff) – A medium flex for a mix of playful and powerful riding.
Shape
True Twin – Everything from the center of the board out towards the nose and tail is exactly the same. Perfect for riding switch
Core
HotRods: Glass Single Barrel – A thin glass rod is milled into the centerline of the board under the bindings and out towards the nose and tail, which provides more pop, without adding any unwanted stiffness.
SuperPop Core Matrix – Three zones of low-density wood with extended segments of poplar for a light and smooth flex transition and a highly responsive snappy pop feel

Laminates
PressurePop Technology: Basalt-V – Lightweight earth friendly material made to direct power from under your bindings to immediate contact points with the snow gives snappy turn initiations and power filled pop.
StraightBiax Laminate – Laminate that optimizes smooth flexing and is designed for freestyle riding

Base
Die-Cut Base – Base color displayed may not be available. Base colors may vary.
SinterTrue Base – Strong and wax absorbent sintered base allows for an average day of all mountain and park riding.
Binding Compatibility
Rome Snowboards will accommodate 2x4 and 4x4 insert patterns.