Rocker Type
FreePop Rocker – A flat camber-and-rocker combo where the flat camber section extends 5 cm wider than the inserts. The extended flat section gives more versatile response and allows for edge control and smooth landings, while the rocker in the nose and tail give float in powder and smooth style on rails.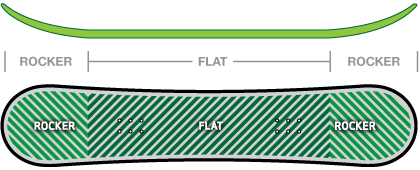 Flex
Flex Rating: 4 (1 Soft - 10 Stiff) – A softer flex for a more playful feel.
Shape
True Twin – Everything from the center of the board out towards the nose and tail is exactly the same. Perfect for riding switch
QuickRip Sidecut – Advanced sidecut geometry gives a short, playful feel at slower speeds and a longer, faster and more stable feel at higher speeds. The mid-board contact points end the running length at slow speeds and add grip at high speeds.
Core
Bambooster Technology: Centerline – A 4mm rod of bamboo is milled into the center of the core. Using bamboo is an eco-friendly way to load up energy which give you the pop for doing ollies.
TTT Core Matrix – Rome's 100% Wood core for a classic snap with flex.

Laminates
StraightBiax Laminate – Laminate that optimizes smooth flexing and is designed for freestyle riding

Glass Reverse V Stringer Technology – Strips of laminated fibers add response and boosts ollies without unwanted torsional stiffness.
Base
Die-Cut Base – Base color displayed may not be available. Base colors may vary.
XTRD Base – Standard base fast enough for most riders and durable enough for everyday use while still strong and easy to maintain
Binding Compatibility
Rome Snowboards will accommodate 2x4 and 4x4 insert patterns.