Rocker Type
JibPop Rocker – This is flat in the middle with rocker in the nose and tail. The flat mid-section ends 1-2 cm inside the inserts and transitions to rocker. While the flat section gives balance on rails and a little pop on edge, the extended rocker sections make for locked-in presses, smooth flat-ground tricks, and catch-free spins.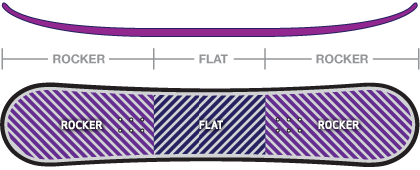 Flex
Flex Rating: 2 (1 Soft - 10 Stiff) – A soft flex for freestyle and a very playful feel
Sidecut
True Twin for easy switch riding.
QuickRip Sidecut – Advanced sidecut geometry gives a short, playful feel at slower speeds and a longer, faster and more stable feel at higher speeds. The mid-board contact points end the running length at slow speeds and add grip at high speeds.

Core
Impact Core Matrix – Composite is the new take on wood, and this 40% wood fiber material extends the durability of the core, is more smooth through the flex and is environmentally conscious. It is designed to create feel and strength.
HotRods: Glass Single Barrel – A glass rod is milled into the core under the bindings and out towards the nose and tail providing quick snappy pop for a quick response.
Laminates
StraightBiax – Designed for the fun and creative rider, this laminate has a forgiving response through presses, jumps and jibs.
Glass Impact Plates – 2x more compression resistance under your bindings to combat the abuse of landing on hard objects
Base
Impact Base – Rails, rocks and trees mean nothing to this base. Constructed of the strongest abrasion resistant compound, this advanced extruded technology with a high density structure holds up to what you can dish out.
Binding Compatibility
Rome Snowboards will accommodate 2x4 and 4x4 insert patterns.