Rocker Type
Catch Free Baseline™ – By bringing the contact points out of the snow, turns happen before the edge bites and - voila! - no, catch. This small amount of Rocker results in more confidence throughout the learning curve and unlocks faster progression on all terrain.

Flex
Flex Rating: 2 (1 Soft - 10 Stiff) – This snowboard is going to be 'soft' which is perfect for beginners who need a stable platform to balance on that won't be too hard to control. Soft snowboards are more forgiving and lower speeds to optimize progression.
Shape
Directional
Core
W1 – K2's standard core. This core is characterized by a single species of pure wood which offers flex, durability, and responsiveness.

Rhythm – K2's Rhythm Core is uniquely shaped and designed to contour to women's riding style and finesse.

Laminates
Biaxial – The classic structure laminate, biaxial glass provides smooth all-purpose performance.
Sidewalls
Hybritech™ – An efficient way to make a snowboard without sacrificing one ounce of performance. This construction features sidewall along the running surface that flows into the nose and tail to provide low swing-weight, optimized turn initiation, and durability.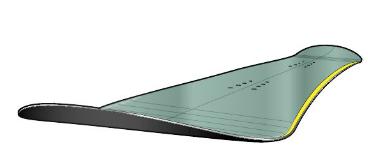 Base
2000 Extruded – This base material is fast in a variety of conditions, it's easy to maintain and exceptionally durable.
Die-Cut Base – Base color displayed may not be available. Base colors may vary.
Edges
Base Bevel: 3º – The base bevel is the degree at which the base edge is tuned to for edge engagement. The more bevel the more rider input is necessary to angle the board for carving precision. With this slight base bevel a rider will experience a mellow ride for softer snow conditions and / or less edge-catch.
Binding Compatibility
4 x 4 Insert Pattern