Rocker Type
Directional Rocker – Jones' directional rocker snowboards have a defined flex pattern with more rocker in the nose than the tail and camber between the bindings. Having a rockered nose will help you float in deep snow and improve maneuverability. The camber underfoot provides exceptional edge hold and response. Subtle rocker near the tail maintains power and stability as it aids your turns.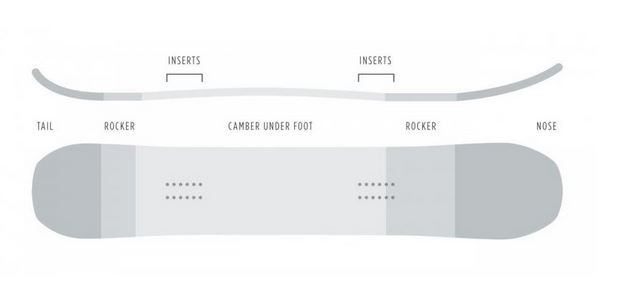 Flex
Flex Rating: 7 (1 Soft - 10 Stiff) – This snowboard has a mid-stiff flex rating that will provide you with a predictable, responsive and fast ride. This snowboard is good for the entire mountain; slalom courses, powder, groomers, and kickers. Loaded with turning abilities, strong edge hold and tons of preloaded pop you're in for a sweet ride.
Shape
Blunt Nose – "How a board glides in powder, crust, corn, or any snow condition more then an inch deep is dictated by its front contact point and just past it. Next time you are in soft snow, watch how much snow comes over the corner of the nose near the contact point. The billowing snow means you are plowing through it which is obviously slowing you down. By adding a blunt nose, you get the float benefits of a much longer board tip without the added length or swing weight." - Jeremy Jones
Progressive Sidecut – At the far ends of the sidecut, the radius is incrementally increased as the edge reaches the contact point. Gradually decreasing the side cut radius towards the contact point delivers smoother turn initiation and exit as the edge tracks in and out of the snow with a less abrupt transition.
Core
Classic Core – Jones' full wood, multi-density core construction. The Classic Core features hardwood that adds protection from impacts and substantially increases the snowboards durability.
Laminates
Biax – Biax laminate consists of fiberglass that is braided in two directions. The fibers are braided vertically at 90 degrees. This ensures a torsional flex that is more evenly distributed throughout the snowboard. For you, this translates to a snowboard that is easy to handle and jib friendly.
Sidewalls
Recycled ABS Sidewalls – Plastic is one of the evils commonly used in snowboard production. Jones improved the sustainability of their snowboards by using only recycled plastic.
Base
Sintered 7200 – Sintered bases are super-fast. Polyethylene pellets are forced together under extremely high pressure. The result is a singular piece of connected pellets with tiny pores across the entire base. Sintered bases absorb hot wax really well.
Die-Cut Base – Base color displayed may not be available. Base colors may vary.
Edges
Mellow Magne-Traction™ – Maximizes your edge hold between your feet so you have better control and stability even on the iciest slopes. Magne-Traction™ varies in the serration depending on the board; regardless it will deliver a catch-free ride any day. "Magne-Traction™ is a key ingredient for rockered board designs. Adding rocker to your board makes it glide more smoothly, but it makes it harder to really lock into your turns and hold a solid edge. Magne-Traction™ is crucial to offset the drift typical of rocker flex patterns." - Jeremy Jones.
Recycled Stronger Edges – Recycled steel reinforces the snowboard's edges to give you exceptional impact resistance.
Topsheet
Wood Topsheet – Using wood for a topsheet dampens the ride and offers chatter-free performance. The natural material also eliminates some plastic and lacquer which improves board sustainability.
Additional Features
Factory Tuned – All Jones Snowboards are factory de-tuned at the tip and tail plus waxed with OneBallJay Bio Wax so you can go right from the shop to the mountain.
Alu-Tip Protector – Reinforced aluminum tip protector bonded to a vibration-damping elastomer layer.
Karakoram Hardware – All Jones Splitboards feature Karakoram K-clips plus tip and tail hooks.