Rocker Type
The System Rocker | Reclined Parabolic Rocker – Arbor's System Rocker design provides a surfy ride, encourages a natural float and cleaner tracking. This playful low-profile deck has a parabolic arc that progressively reduces the amount of rocker towards the tip and tail. Due to this arc, the outside contact points are close enough to the snow to engage when maximum edge performance is critical - high speeds, fully loaded turns and big landings. Flex
Medium Flex – The most versatile flex because it is equally responsive and friendly giving riders peak performance all over the mountain.
Shape
Mountain Twin – A shorter tail than nose gives this board a slightly setback feeling keeping the board on top of the snow and perfect starting point for progression.
Thunderhead Tips – Big-mountain versatility and speed in the deepest snow.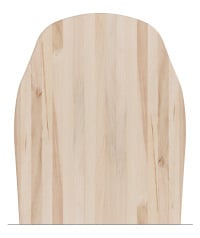 Grip Tech Sidecut – Grip Tech is a tri-radial sidecut design that is not "blended." Natural shaping intersections, that in the past were eliminated, have been transformed into heel-and-toe contact points that provide a direct, more ergonomic way to grip the snow when additional control is needed. The extra contacts also form pivot zones that make turning easier and more natural.

Core
Highland Core – Arbor's highest-end core, made from a blend of estate-grown Poplar and Paulownia to provide the lightweight performance ideal for backcountry and powder.
Laminates
Mixed Glassing – Extra strength, extra performance thanks to Arbor's Triax over Biax lay-up.
Carbon Uprights – This board reinforcement places two carbon fibers from the tip and tail, just past the inserts. This addition makes for a durable, poppy board with backcountry performance.

Sidewalls
360 Rails – The sidewall fully wraps the circumference of the deck to deliver an incredibly tight tolerance for improved board life and durability.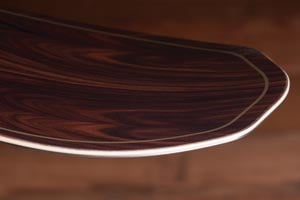 Base
Sintered Base – A higher molecular weight provides added durability and speed.
Die-Cut Base – Base color displayed may not be available. Base colors may vary.
Topsheet
Premium Burled Eucalyptus Power Ply Top – Structural, performance enhancing real wood top.
Additional Features
Stainless Steel Tip and Tail Protectors
Binding Compatibility
Universal Splitboard Insert Packs