Flex
Flex Rating: 9 – Rugged and stiff, this boot offers penultimate boot flex for maximum control and multi-season use.
Full boot articulation – This gives you the flex and movement you need to perform at the best of your abilities.
Fit
Molded Backstays – Ergonomically engineered backstay for a perfect support and great binding integration.
3D Tongues – The boot tongue is ergonomically engineered to conform to the natural curvature of the lower leg. Normally the shell of snowboard boots is sewn in two spots to accommodate the curve and the flex of the shin to the leg; with 3D tongue, the construction is seamless to offer flexibility instead of creating pinch points or hot spots as the front of the leg curves in the boot.
Anatomical Latex J-Bars – Offer superior heel hold
Liner
Black SE Liner – With a handful of the best features on the market the Black SE Liner brags to bring pinnacle performance. From an elastic closure assist, to a full grain leather heel lining this sleek liner has it all.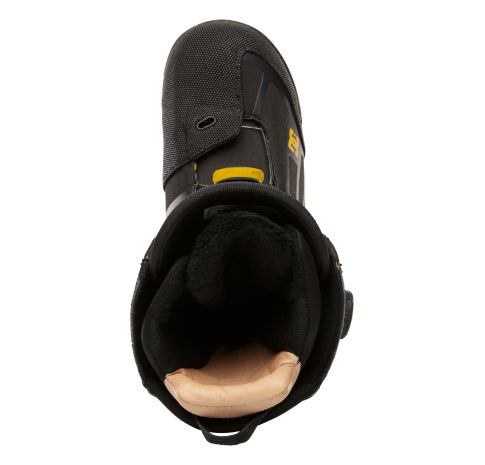 Internal Ankle Harness – Provides additional ankle support without the hassle of laces
360 Degree Power Strap – Provides all-season support and control
Advanced Aerotech Ventilation™ – This liner regulates moisture and temperature in the Multi-layer construction of this liner that combines EVA Memory foam and high rebound heat-moldable EVA, delivering out-of-the-box comfort and unrivaled custom fit.
Full Grain Leather – The use of full-grain leather improves performance and durability while also providing a premium look. By impregnating the leather with silicone, these boots last longer and continue to form to the riders' foot for a truly personalized fit.
Lacing System
Boa Coiler – The H3 coiler platform is fast, easy and micro adjustable for the perfect dialed-in fit.
Footbed
Dual-Density EVA Footbed – This footbed gives you the best in comfort for long days on the snow and hard landings.
G Heel Cushion™ – Next level comfort for smooth, softer landings
Remind Insoles™ – The DC / Remind insoles are built with a multi layer foam impact rebound system including proprietary "BLUE MAGIC" heel protection. You can now ride with confidence knowing your feet are protected by your insoles. Biomechanically and anatomically designed to support the foot and body in proper alignment, the end result is: alleviated stress on the joints, better posture and circulation, enhanced strength and performance, and heightened balance and stability.
Anti-microbial Fabric System – This system reduces hot spots and blistering, and keeps the feet cool, dry, and odorless.
Sole
Unilite™ Outsole with Rubber – This aggressive outsole combines our Unilite technology with the durability of 30% more rubber. The strategically placed rubber sections on the sole reduce wear for riding that is abusive to boots, like street sessions, running up cheese grater stairs or snowmobiling for hours looking for the perfect line.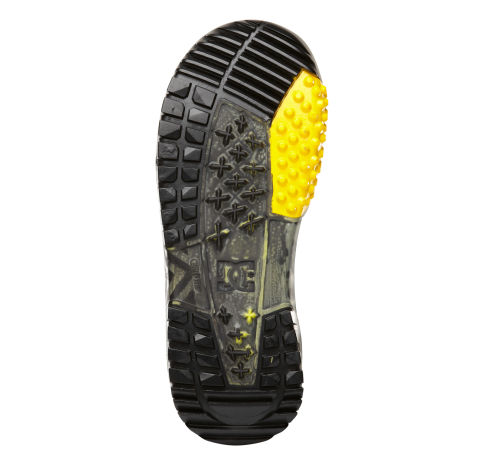 Additional Features
SuperFabric™ – The perfect fusion of material science and style. These durable, flexible and lightweight fabrics have been developed to be utilized in industrial, commercial, or recreational applications around the globe. SuperFabric™ material protects better, lasts longer and looks good doing it. No other material offers such value, performance and versatility - simultaneously.