Baseplate
Stage III Atlas Base – This base is made of Dupont™ Zytel® ST and is guaranteed against breakage with a lifetime warranty
Dupont™ Zytel® ST – The highest-quality nylon is used on all Union baseplates to result in strength, safety and security.
Dual Density EVA Bushings – They dampen vibrations underfoot to promote a more comfortable ride and a smooth, even board flex with no dead sports. Each size comes with its own durometer for custom performance.
Highback
Symmetrical Atlas Highbacks – Symmetrical, yet tapered towards the top, providing flex and tweakability where you want it and support and durability where you need it, these are extremely comfortable, lightweight and responsive with no highback bite.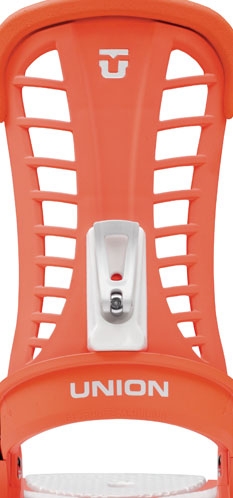 Shift-on-the-Fly Forward Lean – Quick and easy to use, adjust the forward lean with a simple flip of a knob then slide it to wherever you want and re-lock it. Easily done while waiting in those pesky lift lines.
Straps
All-New 3D Direct-Connect Strap System – Multi-Layer Tapered Strap Core evenly distributes pressure.
Multi-Layered Tapered Strap Core
Magnesium Buckles – The magnesium in the buckles is four times the strength of aluminum with only half the weight. Plus, it is easily recycled.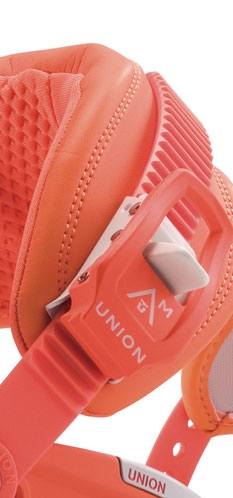 All-New Toe Buckle System – Multi-positional options with open Ultra Grip™ Design
All-New Toe Cup Design – Holds better to your boots for consistent control and also moves vertically for multiple boot-to-strap positions.
Additional Features
All-New Extruded 3D Aluminum Heelcups – This process removes material to reduce weight but maintains strength.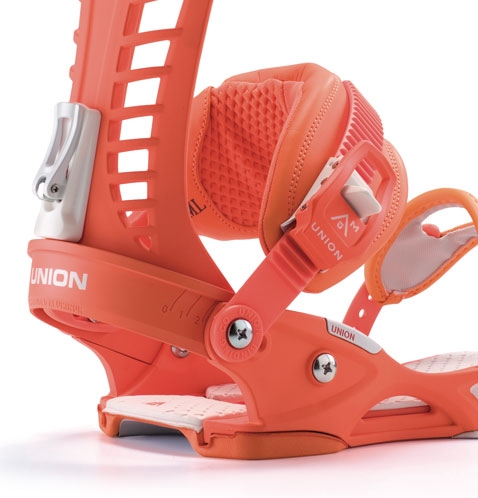 Universal Disks – Compatible with any traditional 4x4 mounting system and 3-hole board patterns. Channel Compatible Discs are available separately from Union to fit Burton snowboards with The Channel.
Grade 8.8 Hardware – The most commonly used hardware is made from "mild steel" that has a property class of only 4.6. Considering how much stress a binding goes through, Union uses only the highest-strength steel, with a property class of 8.8.