Flex
Flex Rating: 6 (1 Soft - 10 Stiff) – These bindings offer a medium flex, predictable, progressive, perfect for all-mountain riding.
Baseplate
Wedgie™ Footbed – Aligns the ankles and knees to a natural position, providing added leverage for hard presses and huge pop
Urethane Rollbar™ – The basepad is injected with urethane, for extra dampening and shock absorption.
Highback
Eclipse Highback – A more responsive all-mountain freestyle highback offering a refined shape for optimal support and control
Straps
Freestyle Ankle Strap – This clean flip and stitch construction, made from multi-density 3D padding and formed neoprene, gives you just the right blend of comfort and control for freestyle charging.
3D Thingrip™ Toe Strap – An over-molded rubber web for super snug boot grip, offering the max in support and response
FlipSide™ Mount Strap – Holds the ankle strap out of the way when you're getting into your bindings. Easy!
AstroGlyde™ LT Ratchet – Innovative minimalist lever design that is engineered for superior cranking power and buttery release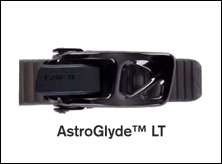 Additional Features
Forged Aluminum Micro-Disc – Built for binding flex and performance, this disc is 30% lighter than normal discs and fits 2x4 patterns as well as slot/channel boards.
Adjustable Heelcup – Control the way your heelcup feels for ultimate fine tuning control.