Baseplate
A-Line GF chassis is a one-piece designed for lightweight performance. Fiberglass reinforced Nylon material is dialed for a women's flex.
Multi-Compatible discs have a two slot design mounting on 4-hole and 3-hole patterns. Powerhold washers provide bomber locking power.
Seamless EVA footbed cover with a polycarbonate support frame that prevents snow build-up. Tool-less 'Pop Top' disc covers for easy access to disc mount screws.
Highback
NEW Women's Tweakback highback provides all-mountain support and flex for women with seamless power transfer.
Airlock Highback technology eliminates the need for traditional forward lean components, creating a light, high-performance highback.
Straps
Custom Caddi ankle straps provide you with a super cush performance from durable PU laminates.
Tool-Less Universal toe straps are cored for a lightweight and secure fit over or on top of your boot. Tool-less cam-lock adjustment.
NEW Cam-Lock Centering is tool-less and secure adjustment allows you to precisely center your straps with ease and speed.
Additional Features
NEW Mega RADchet's are solid, smooth and built to last. Made with large release levers for easy out.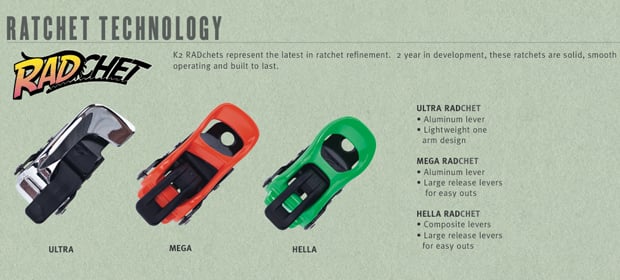 EZ-Feed ratchets have a wider, tapered mouth, allowing for easy entry.