Rocker Type
Triple Camber Flat Rocker – This rocker profile is flat underfoot with extended tip and tail rocker. Micro-cambers outside the binding area preserve grip on hardpack and stiffen the tail to prevent wheeling out on big-air landings. Designed to surface quickly and ride atop variable snow with exceptional maneuverability, yet remain secure when engaged in a turn.

Triple Camber – Triple Camber Tech adds twin micro-cambers within the center camber of the ski, restoring pop to the tip and tail and stiffening the overall profile of the ski while maintaining the loose feel of a rocker/camber design. In powder, the low center and rockered ends allow you to float and slash. On hardpack, the micro-cambers bite with focused pressure into the snow, making the shorter effective edge more effective in the turn. In variable conditions, Triple Camber adds confidence without making the ski sluggish or hard to initiate.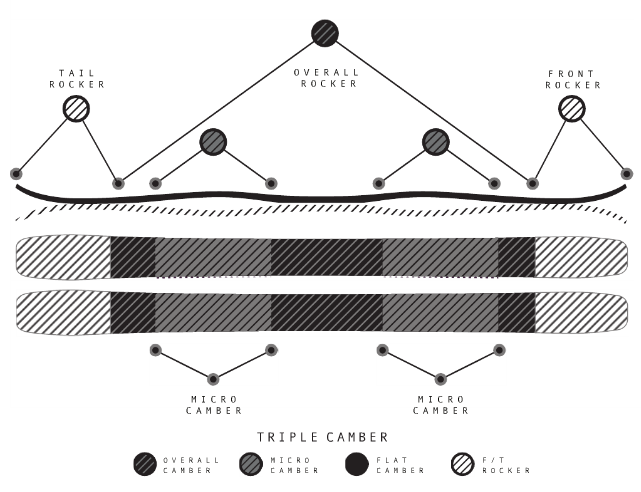 Sidecut
Turning Radius – 27.5 m (186 cm)
Core
Paulownia / Ash – Paulownia is exceptionally light in weight, with similar properties to aspen in terms of flex and rebound. Moment uses this as the core foundation for their touring models, and added ash stringers for outstanding stiffness and damping without excess weight.
Laminates
Low-Fat Layup – Moment's Low-Fat Layup uses 33% more carbon and a lighter fiberglass weave to shave excess weight from the ski while preserving snap and life. Moment uses this layup in their touring models and in their widest men's and women's powder skis.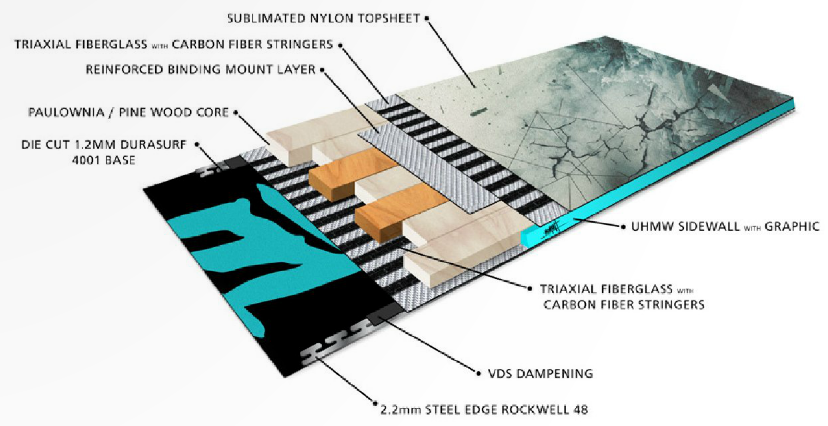 Carbon Fiber – Moment uses carbon fiber in all their skis, either in the form of woven unidirectional stringers or carbon tow threads added to the laminate matrix. Lighter than fiberglass, metal, or basalt, carbon helps tune and strengthen the ski while adding longevity.
Fiberglass – In addition to carbon fiber, Moment uses three types of fiberglass laminates to fine-tune the flex of their skis. Tri-axial glass adds twisting strength and longitudinal stiffness. Bi-axial weaves add torsional stiffness. Unidirectional glass helps absorb vibration and stiffen the ski from tip to tail.
Sidewalls
UHMW Polyethylene – Extruded UHMW (Ultra-High Molecular Weight Polyethylene) is the sidewall material Moment uses for every pair of skis. It is extremely light, durable, and resistant to separation.
Base
1.2 mm Durasurf 4001 Sintered Base – Moment designed this base to take a beating while staying fast. Harder and with better wax absorption properties than extruded bases, sintered bases are the industry standard for performance and longevity.
Edges
2.2 mm Rockwell 48 Steel – Moment sources their edges from the industry's most recognized manufacturer. They arrive from Austria, hardened to 48 Rockwell, and Moment performs additional heat treating in-house to adjust the hardness and ductility of the steel, ensuring you get the most life out of your skis.
Graphics
Artwork by Ricardo Garcia
Topsheet – Moment uses several different types of topsheet materials, enhanced with sublimated graphics - a non-toxic and eco-friendly alternative to silk screening. Each topsheet choice is made to ensure optimal durability and impact resistance while maintaining crisp and bright graphics.
Binding Compatibility
We recommend a brake width equal to or at most 15 mm wider than the ski waist width.