Rocker Type
Classic Camber – A traditional ski shape that gives the ski maximum performance in groomed conditions (the park)

Shape
Park / Pipe Shape – Spin, flip and slide your way to glory with 4FRNT's park and pipe specific shaping.
Traditional Contact – The two contact points of the ski are at the tips and tails.
Twin Tip – The tail of the ski is also upturned to allow for switch skiing and landings.
Asymmetrical – A directional shape that gives the ski a more consistent feel
Core
Hyper-Block Core – This core is designed with Poplar and Birch for freestyle riding, shredding laps and cruising the mountain.
Laminates
Semi-Cap – Semi-cap partially wraps the topsheet around the sidewall for additional durability.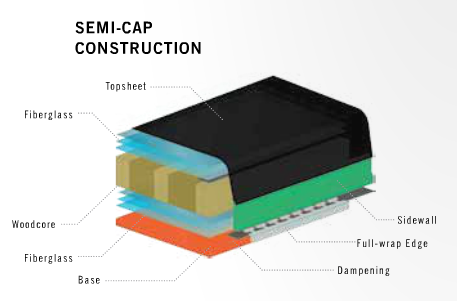 Base
Sintered Base
Purl Wax – Purl Wax is based out of Colorado and is made from renewable and natural sources. 4FRNT chooses to wax their bases with Purl Ice-9 wax because it is 100% biodegradable, petroleum free, and keeps nasty PFCs out of human bodies and watersheds.
Edges
Full-wrap edge
Additional Features
Snow Sports Recycling Program – This program collects old ski gear such as skis, boots, poles and various other equipment and grinds up the material for re-purposing. The White Room contributes all of its fiberglass and wood scrap from cutting the skis out once they come off the press.
Alternating size colorways
Binding Compatibility
We recommend a brake width equal to or at most 15 mm wider than the ski waist width.