Shaft
3-section foldable aluminum Z-Pole with speed cone deployment
Rapid Deployment System – Concealed inner Kevlar cord with flexible tube ends for protection when the pole is folded, while a single push-button release easily collapses the pole. Speed cone technology guides the pole sections together and stiffens each joint when the pole is locked.
Adjustability
Short: 105-125 cm (41-49") / Long: 115-135 cm (45-53")
FlickLock™ Pro – FlickLock® Pro is the evolution of Black Diamond's trusted FlickLock design. The benefits that made Black Diamond's classic FlickLock design the best pole-locking mechanism on the market remain: it's secure, fast, and easy to use. The Pro's new low-profile, stainless steel design, however, provides a dramatic improvement in quality, feel, and clamping force.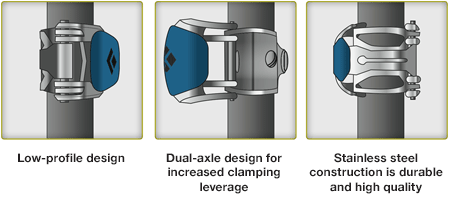 Grip
Fluted grip interior for weight reduction
Grippy, comfortable extension for quick choke-ups when traversing steep slopes
Strap
Wishbone-shaped, lightweight, vari-width webbing strap hangs open for easy access
Lengthened strap tab is easy to manipulate with gloves
Basket
100 mm (4") Powder Baskets