Rocker Type
Junior Rocker – For perfect allride performance. With 20% rocker and 80% camber, kids get tons of float, easy turn initiation, and plenty of speed and control. Head's Junior Rocker works for anyone, anywhere.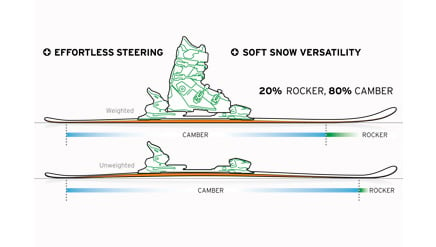 Shape
ERA 2.0 – The little brother of ERA 3.0 and is everything the 3.0 has to offer as far as design, performance and geometry integration, but without the addition of "Rebound" with its piezoelectric Intellifibers.
Junior Power Frame – A geometric ski shape that provides structural strength to the outer edges of the ski through geometric design, as opposed to altering the core material or density of the ski. Also, for kids it looks cool and feels different than a standard flat ski.
Base
E Base Black – Basic black never goes out of style, and it's always durable. Easy gliding is everyone's friend.
Included Bindings
Bindings Do Not Come Mounted to Skis – Always have a certified binding technician mount and adjust your bindings.
Includes LRX 4.5 Bindings – Bindings must be mounted and adjusted prior to use.
Additional Features
LiteRail – Due to three different mid parts, LiteRail covers boot sole lengths ranging from 199 to 347 mm. Covering this large mounting range LiteRail is perfectly suited for kids, juniors, as well as adults.