Construction
In-Mold Technology – The fusion process between the Microshell and the helmet's EPS liner ensure performance in terms of impact resistant for a lighter and more ventilated helmet.

PC In-Mold Construction – During the In-Mold manufacturing process polycarbonate material, used on the outer shell, is fused with the helmet's impact absorbent foam liner to create a super lightweight outer shell. With reduced weight and bulk surrounding the head, In-Mold helmets are more comfortable than traditional helmets.

Ventilation
Adjustable Ventilation – Adjustable ventilation system in front of the helmet. To open the vents slide the button to the left.

Passive Ventilation – Openings on the front and back of the shell provide passive ventilation to keep your head cool.

Adjustability
R.A.S. Fit System – The user-friendly Rotary Adjustment System (R.A.S.) provides a custom fit for maximum comfort.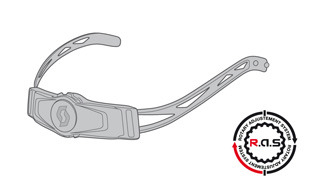 Removable Ear Cover – Removable ear covers for individual adjustment of temperature and acoustic preferences.

Removable Lining – Helmets featuring removable and washable lining pads.

Additional Features
Goggle Retainer – Advanced 1 or 3-point goggle fixation. For the perfect fit of your goggle.

Safety Standards
CE EN 1077-07B