Construction
In-Mold Polycarbonate Shell
Ventilation
VTT1 Ventilation Technology – Pret's highly effective system of vents removes heat and moisture without exposure to the elements. A balance of front intake and top and rear vents controls air throughout the helmet. Vent covers are sew right into the washable, removable liner to completely close the front and top vents. The ultimate solution for simple, effective ventilation and lightest possible weight.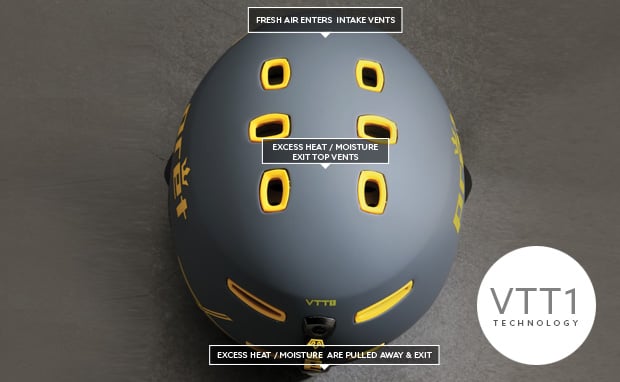 Adjustability
RCS Fit System – Pret developed their exclusive quick release Ripcord System (RCS) to create the perfect micro-adjustable, compact and ergonomic fit system. One full turn provides a full 4 cm of micro-adjustment. Simply pulling up on the adjustment dial and the exclusive Ripcord feature instantly releases the system.
Additional Features
Covert Ear Cover System – You can quickly and easily remove your ear covers without messing with the fit system. Perfect for hot spring days when you have quick weather changes.
Audio Ready – Ear pads are constructed with custom pockets that fit most audio systems so you stay connected to whatever rocks your soul. (Audio system not included.) Outdoor Tech® Chips® Recommended.
Wool Blend EcoSmart Liner
Safety Standards
ATSM F2040, CE EN1077