Material
Nylon 840D Ballistic – This strong yarn provides a great deal of abrasion protection and ensures longevity. This weave gives the fabric additional robustness and protects it from damage. Ideal for the ABS Series packs in areas which are expected to endure large applications of force.
Nylon 420D Ballshadow – The distinctive ripstop interlocking thread pattern and a PU coating for greater water resistance result in higher abrasion protection and tear strength. From a visual perspective, the relief-like surface structure has a very technical appearance. It is a design that doesn't compromise longevity.
Hypalon – Ortovox was one of the first companies to use hypalon in the construction of their packs. The material is now used anywhere that sharp, pointy things try to attack the backpack and backpacker alike. Hypalon is resistant to cold and virtually indestructible.
Dimensions
Volume – 1464 cu in / 24 L
Back Length – 19" / 48 cm
Weight – 3 lb 14 oz / 1750 g
Waist Circumference – 35-50.5" / 89-128 cm
Width x Length x Height – 10.5 x 20 x 8" / 27 x 51 x 20 cm
Weight Backpack (lb oz / g) (incl. M.A.S.S. Unit) – 6 lb 15 oz / 3150 g
Weight M.A.S.S. Unit (lb oz / g) – 2 lb 14 oz / 1300 g
Weight Release Unit Steel (lb oz / g) – 1 lb 4 oz / 580 g
Airbag
Airbag Location – Inside - Removable for maximum flexibility
Release Protection – A stowable aluminum bracket protects the Trigger from unintended release.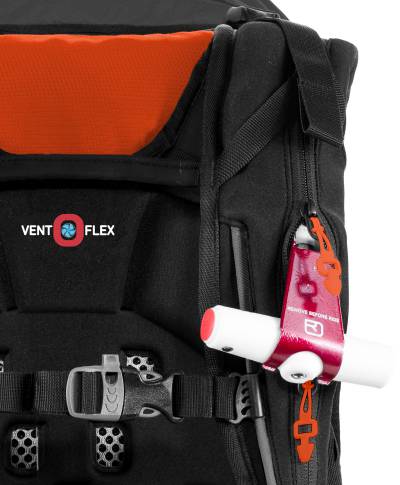 Left and Right-handed trigger options
M.A.S.S. (Modular Airbag Safety System) Compatible – Ortovox made the ABS airbag system removable. The M.A.S.S. Unit weighs only 1300 g and can be inserted into any Ortovox airbag backpack in less than three minutes (sold separately).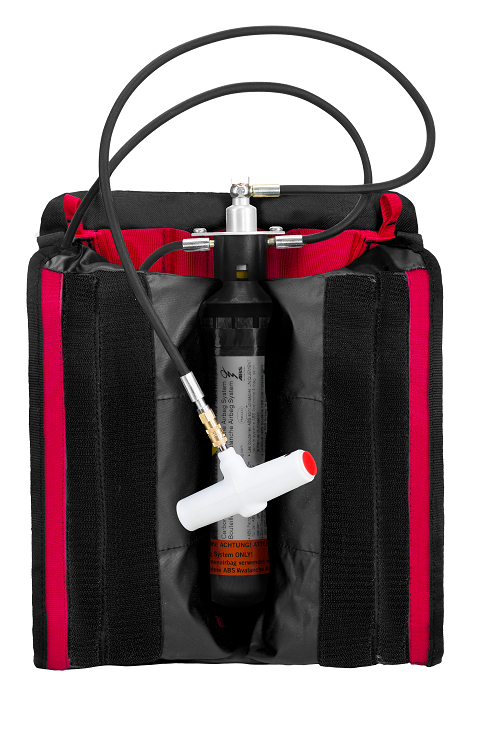 Pockets
9 Compartments total
Safety Compartment – A separate, easy-to-access compartment for avalanche gear.
Goggle Case – Cushioned and removable compartment
Camera/Phone Pocket
Insulated hydration sleeve
Features
SPS PRO2 Back Protector – Certified by the German Technical Inspection Association (TÜV), the back protector may be removed and used separately with your own carrying system. Ergonomically shaped and weighs only 10 oz/ 300 g.
Chest Strap with Alarm Whistle – To quickly draw attention in emergency situations
X-Skifix – A multi-functional ski fastener with robust and easy-to-use aluminum clasps: carry skis diagonally or crossed.
Wide Ski Fastener – 150mm
Snowboard/Snowshoe Fastener – A flexible carrying fastener for snowboards, snowshoes, and other toys.
Ice Axe & Hiking Pole Loops – 2
Helmet Net – A removable net for convenient and secure fastening of a helmet, which can also be used in combination with attached skis.
Wide Hip Belt – Wide (4" / 100mm), elasticated, and made from comfortable neoprene for an optimal body-hugging fit, even when in motion
Main Compartment Access – Front
Water-resistant zippers
Polygiene Treated – 100% natural silver compound Polygiene combats odor-causing bacteria.
Hydration System Compatible
Bright Inside – A light-colored interior makes it easier to find what you need, especially small objects.
Warning – Wearing an airbag backpack is no guarantee of survival in an avalanche. Backcountry travelers are highly advised to educate themselves in snow stability assessment, route finding, and companion rescue and carry all of the conventional avalanche gear in addition to the airbag.
Refill
Used Cartridges – Spent cartridges may only be refilled by ABS®; after deployment you should return the empty cartridge to an authorized dealer or ABS® where you will receive a credit toward the purchase of a full cartridge. Activation handles should be replaced at the same time.