Airbag
Mammut Protection Airbag System with Snowpulse® Inflation 2.0 – The Mammut® Protection Airbag System is the newly developed version of the well-known Snowpulse® Lifebag System. The special shape of the airbag and its clever integration in different backpacks are unique features. The shape of the airbag protects the wearer's head, neck and chest area from mechanical injuries and in the event of an avalanche, helps victims achieve an optimal position by keeping the wearer's head and upper body on the surface of the debris.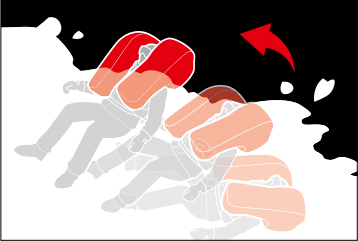 Trauma Protection – According to the most recent findings, around a third of all avalanche victims die due to trauma injuries. With the "Protection Airbag System," Mammut® Protection series backpacks provide additional protection against trauma injuries. The special shape of the buoyancy device, which sits around the wearer's head, neck, and chest, effectively protects these vital body parts in the event of a collision during an avalanche. This increases your chances of survival in two respects: you have the best possible protection against both being buried and trauma injuries.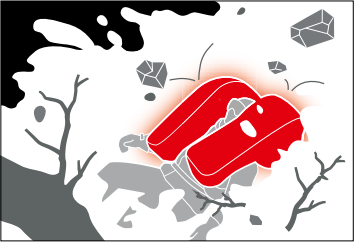 Functioning of Airbag System – Pulling the deployment handle activates the deployment mechanism. The mechanism opens the pressure cartridge and the released gas flows through the Venturi valve into the airbag. The Venturi effect also draws ambient air into the airbag. The gas in the cartridge and the ambient air generate the 150 liters of the airbag. The entire process takes around 3 seconds, depending on the temperature and height.
Complete Flexibility – When you buy a Mammut® avalanche airbag backpack, you don't just get a product, you get an extremely flexible system. The many different backpacks within the Protection Airbag line are designed to allow the airbag system to be easily removed and installed in each of the individuals models within a few minutes. Depending on your requirements, you can expand your range of equipment to include other models (without a system): this means you're perfectly equipped for any powder activity. You also have a fully operational tour backpack at hand from spring to fall, which saves you money. NOTE: The Protection Airbag System can only be installed in Mammut® Protection series backpacks.
Maximum Reliability – Mammut® avalanche airbag backpacks are designed so that they can be used normally for years, without being deployed once. If there is an actual emergency, they can be deployed with maximum reliability: using a powerful force, the system inflates the buoyancy device within 3 seconds, even if there is resistance. An 100% proven mechanical system with a cartridge that is ready-to-use for years to come provides the reliability that safety-conscious freeriders and ski tourers need.
No Limits – Until recently, ski tourers often cited weight as an argument for not carrying an airbag pack. The Mammut® airbag system however, weighs just 1200 grams, including the carbon cartridge.
Simple Operation – The Mammut® airbag system is designed so that operation is faultless and extremely user-friendly. Screw in the cartridge at home, quickly check the airbag system and fold out the deployment handle before your start - ready for powder!
Ready For Use in Any Conditions – Mammut® airbags are based on a simple mechanical system. The pressure cartridge, the energy store of the system, is always completely ready for use in any weather or temperature.
Features
V-Frame – Adjustable 6 mm Aluminum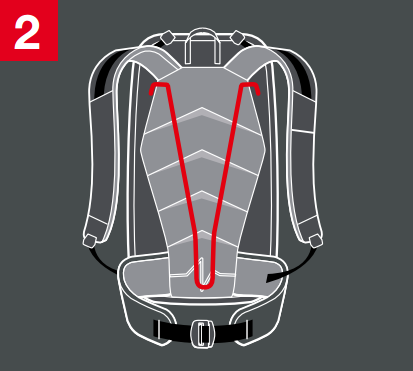 Thermo-Molded Back for High Carrying Comfort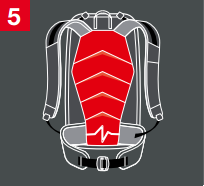 3-step back length adjustment (M - XL)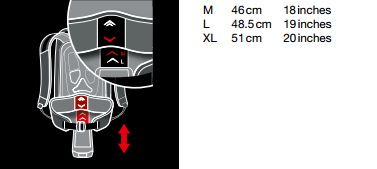 Detachable Hip Belt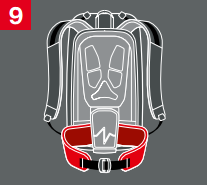 Diagonal, Stowable Ski Carry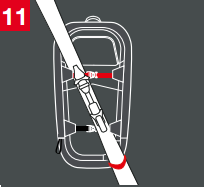 Stowable snowboard carry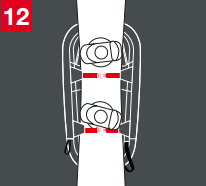 Hydration system compatible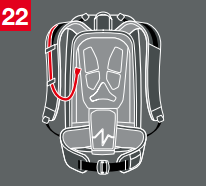 Hydration System Compatible
SOS label with emergency instructions
Weight Set With Airbag – 2250 g
Weight Set Without Airbag – 1380 g
Warning – Wearing an airbag backpack is no guarantee of survival in an avalanche. Backcountry travelers are highly advised to educate themselves in snow stability assessment, route finding, and companion rescue and carry all of the conventional avalanche gear in addition to the airbag.
Refill
Cartridge Not Included – Mammut airbag packs are sold without the cartridge which must be purchased separately.
Cartridge Rental Stations – Mammut® provides a global cartridge rental program to make it easier to travel with Mammut® avalanche airbags. Many guides, heli, and cat operators offer rentals for their customers, and there is a listing of shops offering rental service at www.mammut.ch/cartridge-rental. If there is no shop nearby, or your schedule does not permit a stop, Tahoe Mountain Sports (www.tahoemountainsports.com) in the US and Avalanche Safety Solutions (www.avalanchesafety.ca) in Canada offer a reasonably-priced cartridge rental service where a full cartridge is shipped to your destination so it's awaiting your arrival.
Air Travel Regulations – The Transportation Security Administration (TSA) and its Canadian counterpart do not permit carrying filled pressure cartridges on flights arriving into or departing the USA or Canada, or on domestic flights within the US and Canada. This regulation also applies to passengers transferring between flights in the USA. If you wish to travel by air with your airbag, Mammut® recommends renting a cartridge at your destination.