Material
600D Cyclepet®, 1680D Nylon Ballistic, 420D Nylon
Airbag
Airbag Functionality – The effectiveness of the airbag is based on the "Principle of Inverse Segregation." In an avalanche, smaller moving particles gravitate toward the bottom of the slide while larger ones rise to the surface. The inflated airbag allows the wearer to become one of the larger particles. When the release handle is pulled, the airbag inflates within 3 seconds, and the shape of the bag also protects the wearer's head and neck from impact.
Mammut R.A.S. (Removable Airbag System) – The user can install or remove the airbag system as required, moving it between compatible R.A.S. system packs. The cartridge is shipped empty and can be filled at most dive shops or paintball shops in the US and Canada that offer 207 bar/3000 psi dry air and have a standard paintball fitting.
Snowpulse Inflation System 2.0 – The new System 2.0 is only compatible with newer Snowpulse R.A.S. units and is NOT compatible with older Snowpulse LifeBag packs.
Pockets
Front Pocket for Avalanche Safety Equipment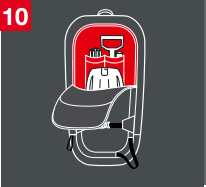 Padded Goggle Pouch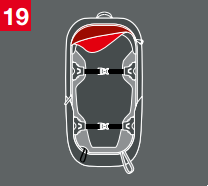 Zipped Inner Compartment with Key Clip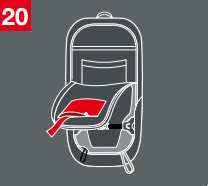 Features
Easily stowable deployment handle
Safety Leg Loop
V-frame 6 mm adjustable aluminum stay
2-Layer high density EVA back padding
Diagonal, stowable ski attachment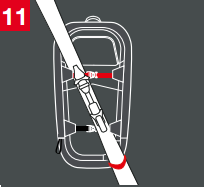 Snowboard Carrier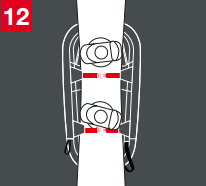 2 front gear loops for helmet attachment
Removable, Padded Hip Belt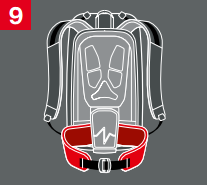 SOS label and emergency instructions
Weight – With airbag system: 2350 g; without airbag system: 1500 g
Warning – Wearing an airbag backpack is no guarantee of survival in an avalanche. Backcountry travelers are highly advised to educate themselves in snow stability assessment, route finding, and companion rescue and carry all of the conventional avalanche gear in addition to the airbag.