Shell Material
Dryride Ultrashell™ Water-Resistant Fabric – Built around the demands of high-energy riding, DRYRIDE Ultrashell fabrics are both bomber and breathable to keep hands dry and protected. Offered in various performance levels and stretch in some styles, with Ultrashell 2-layer coated offering a drier, more breathable level of performance.
Membrane
Waterproof Dryride Insane Membrane™ 2.0 – This extra-thin, super waterproof membrane protects hands from wind and water while wicking away heat-robbing sweat. Offered in 1.0 and 2.0 versions with 2.0 offering a higher level of quick-wicking, waterproof performance.
Insulation
Thermacore™ Insulation – Developed for superior warmth-to-weight, Thermacore™ cranks the heat without limiting mobility.
Lining
Brushed Microfiber Lining – The unique breathability properties of microfiber make it ideal for pulling heat-robbing moisture away from your body before it crashes your party.
Palm
Screen Grab Toughgrip™ Palm – For touchscreen control, this Burton-exclusive PU synthetic leather has the tech built right in, meaning it will never fray, wear out, or wash off. Any device, any finger—you get total touchscreen control without ever exposing your fingers to the cold.
Fit
Ergonomic Pre-Curved Fit – The superior dexterity of this articulated fit means your hands will always be warm and nimble no matter what kind of action you get into.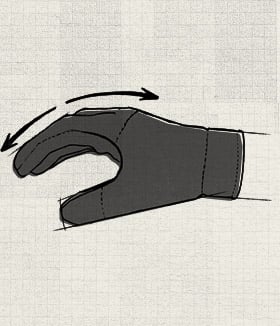 Ergonomic, articulated left and right fit