Construction
Performance Core Carbon – Dynamic RTM construction with strategically placed carbon compliments the template and sweep angle of the fin, and produce a bespoke flex pattern with remarkable memory properties. In the water this translates to immediate response when loading up the fins and driving through turns. PCC fins suit fast surfing and are favored by power surfers who like to perform explosive turns on critical parts of the wave.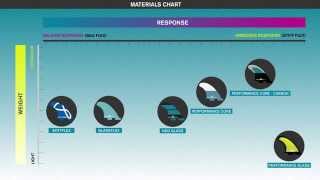 AirCore – Fins with AirCore Technology feature a pressed polyurethane foam core that mimics the geometric foil of the fin. AirCore technology reduces the amount of fiberglass required in the RTM moulding process making it much lighter while allowing total manipulation of the flex.
Features
Designed for a Balance of Speed, Flow and Response
Oversized, All-round Template with a Fuller Tip
Ideal for Surfers Who Like to Attack the Wave and Perform Aggressive Turns
Board Types – Recommended for performance shortboards with moderate-to-extreme rocker.
Ideal Conditions – A wide range of conditions, particularly good in critical overhead waves.