evoTrip heli-skiing in BC with CMH

Back To All Trips BC Heli-skiing Trip Info
SOLD OUT!
March 3 – 6, 2014 evoTrip to CMH K2, Nakusp, B.C.
Join the evo team, go heli-skiing with Canadian Mountain Holidays (CMH), and be among the first to test out K2's 2014-15 skis and snowboards! Stay in the beautiful K2 Rotor Lodge and spend three days riding beautiful British Columbia powder. K2 designers will be on-hand to answer questions and take your feedback to K2 Headquarters to fine-tune the skis. Plus, you get a free pair of K2 skis or a K2 snowboard when they hit the shelves in the fall of 2014!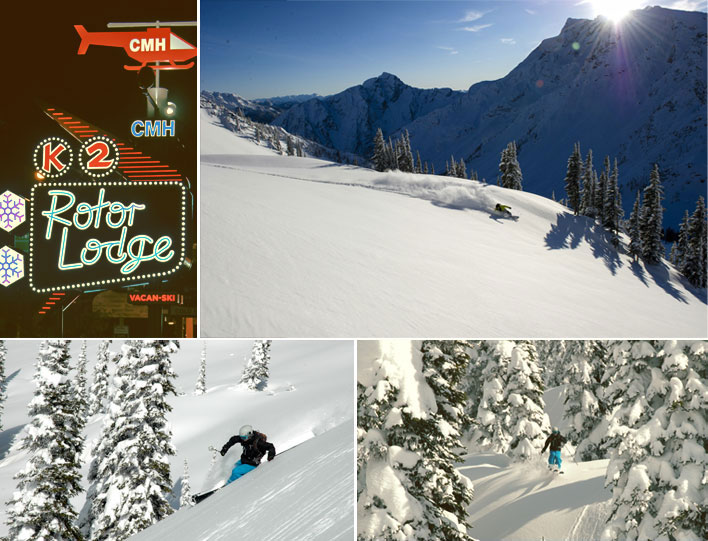 Trip Includes:
Guarantee of 43,000 vertical feet (13,100 vertical meters) of guided heli-skiing/boarding - additional vertical is charged at $125/3,280 vertical feet (1000 meters)
All meals, snacks and non-alcoholic beverages
Accommodations at the CMH K2 Rotor Lodge on March 3rd, 4th and 5th
Use of specially designed K2 heli-skis and poles or snowboard
Training in and use of avalanche transceivers, radio, shovel & probe
All guests will receive a voucher for K2 skis or K2 snowboard to be delivered in the fall of 2014
Two evoTrip leaders will host at the CMH K2 lodge and ski with the crew including evo founder, Bryce Phillips
Trip Itinerary:
March 3, 2014
Guests arrive at CMH K2 Rotor Lodge between 5 - 7 PM for dinner and welcome
March 4, 2014
Full day Heli-Skiing Breakfast/Lunch/Dinner included
March 5, 2014
Full day Heli-Skiing Breakfast/Lunch/Dinner included
March 6, 2014
Heli-Skiing Breakfast & Lunch included Guests depart after heli-skiing
Cost per person:
$ 4010 CAD (twin) $4160 CAD (single) Taxes not included
Transportation Information:
Learn how to get to there
Book Now:
Call or email Ed Zebrowski at CMH.
206-478-9274
ezebrowski@cmh-rep.com