Shape
Wide Side to Side Concave
Construction
FLX Construction – Uses a bamboo core with maple and fiberglass mesh for the right balance between flex (to pump carves) and stiffness (for downhill speed and snap).
Trucks
180 mm Slant Magnesium Inverted Trucks – The same Slant Inverted Trucks you love, now even lighter. Slant Inverted Trucks provide a smooth, stable roll for easy carving and transitions with great stability at higher speeds. Featuring high-grade magnesium construction, these trucks are engineered to stand up to the most abusive skating. All slant trucks are guaranteed for life. Slant Inverted Trucks come with reversible hangers, so you can choose between a 50 or 54 degree angle. They come stock at 54 degrees, which provides greater turning capabilities, but if you want a little more stability feel free to flip that hanger to 50 degrees.
Wheels
Globe Drift 70 mm 78a Wheels – These center set Drifter wheels feature a 38 mm contact patch along with Globe's "Drift" formula for smooth rides and extra buttery slides.
Bearings
ABEC 7 Bearings – ABEC 7 bearings are highly precise and turn faster for longer. A precise bearing means that it has a higher tolerance to heat caused by friction.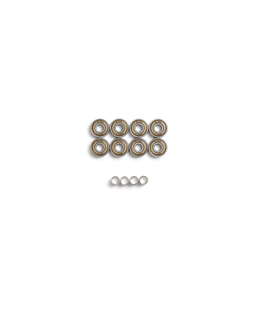 Additional Features
Wheel Wells – These help eliminate wheel bite.