January 25, 2018
There have been a number of times in our history when we've been tested in unimaginable ways. Many times I've stated that "we would not be here today if it weren't for our Core Values." Since founding evo out of my garage 17 years ago, we've always known that everything would change yet there has always been a set of fundamental "non-negotiables". These non-negotiables are our Core Values or, as we like to call them, The Great 8.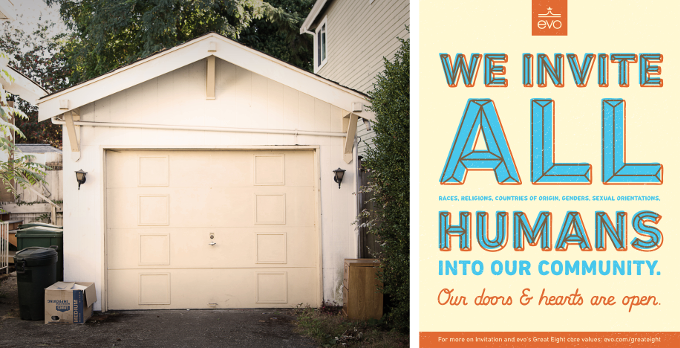 Over the past year, I've been leaning on these values to think about our role as a corporate citizen in the current climate. Let me be clear: We are in business, not politics. We've got awesome team members, customers and family on all sides of the aisle. This is not about taking sides in normal partisan battles.
Through the growth of our business and our focus on giving back, we've seen first-hand how critical openness is to building strength in our community – encouraging and developing the passions of new participant groups and generations. Sport can be an intimidating or exclusive space, even without the imposition of further stereotypes, challenges and barriers. With many people we care about feeling alienated, I believe it critical now to reiterate our guiding principles. I want to affirm that evo stands with people of every color and creed, with women, with the LGBTQ community, with the handicapped, with everyone on the margins, or feeling threatened.
This is who we are, and who we have always been. It's what we mean when we talk about Invitation and how all people should be treated. It's why we emphasize Respect for everyone, and Comunicación. It's with these values that we build strong, trusting relationships.
We have to live into those values now, more than ever; first and foremost, in the way we treat one another and the people around us. We will also add our voice and our action to larger efforts to stand against policy decisions – locally and nationally – that are fundamentally at odds with our values.
For now, during these uncertain times, I want to call each of us back to the values that guide us at evo. Let's come together as a community and model a better way forward.
Sincerely,




Bryce Phillips
evo Founder & CEO