Fit
Last: 102-100 mm – Exclusive Dalbello Technology: Developed to permit skiers to regulate overall boot width - from a range of 101mm to 103mm - when closure tension on toe buckle is increased or decreased. "Set it, and forget it". Once VVF has been set, Panterra models may be skied/put on/taken using remaining 3 buckles.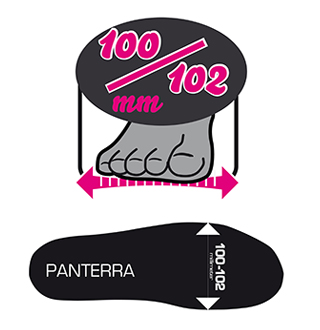 Contour 4 Shell-Fit – Exclusive Dalbello construction technology that maps the anatomical contours of the foot to create subtle "comfort zones" at 4 critical foot points: ankle, heel, 5th metatarsal & navicular. Relief contours molded into the inside lower shell at these 4 points provide a close and accurate fit and minimize the need for shell modifications.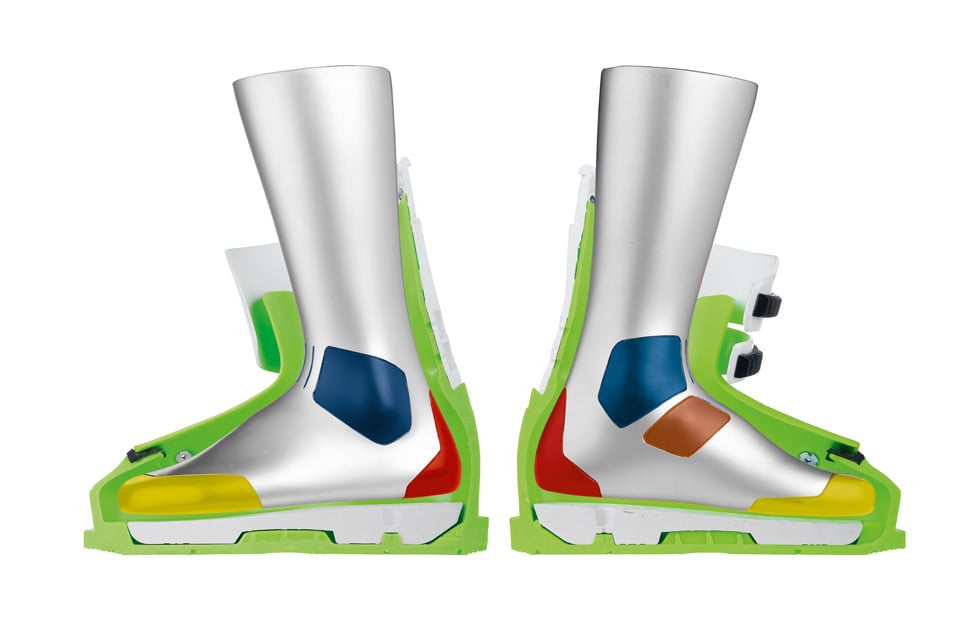 Flex
100 Flex Rating – A versatile medium flex for the advanced skier who rides hard but still wants some give in their boot

Liner
Trufit 2.0 Custom Fit System – TRUFIT liners are designed to fit feet precisely and comfortably right out of the box. The liners may also be custom heat formed using a quick and easy heat molding procedure performed in the ski shop. The liners have a reduced volume fit and are made with PE foams and a performance insole.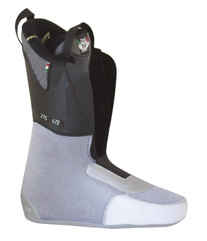 Shell Materials
dbHylite Performance Polymer – Dalbello's collaboration with the University of Bologna has yielded a new lightweight super-stiff performance polymer with extra shock absorbing properties.
Cabrio Design – Cabrio Design ski boots are uniquely engineered to incorporate 3 components: the lower shell, upper cuff and, and external shell tongue. This permits the use of stiffer plastics in the lower shell without affecting the smooth and progressive forward flex that's controlled with the shell tongue. This design strengthens the support around the foot for precise lateral transfer of power. Overall the advantage is smoother power transmission, progressive flex and dynamic rebound. Plus the boot is super convenient to put on and take off.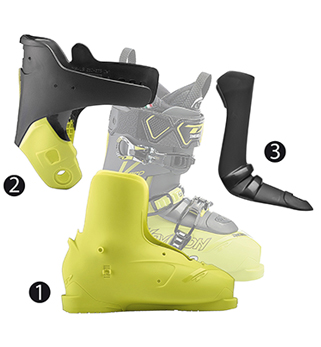 Shell / Cuff / Tongue – PU / PU / PE
Stance
Center Balanced Stance – Today's modern rockered skis and lateral skiing technique require a much more upright and neutral (flatter) stance. Once only offered to racers, Dalbelllo is the first company to deliver this performance enhancing technology to the hungry masses. Center Balance "Rocker" Stance allows skiers of all stripes to take full advantage of their equipment by centering their body mass over the sweet spot of their skis for more power and control with less effort.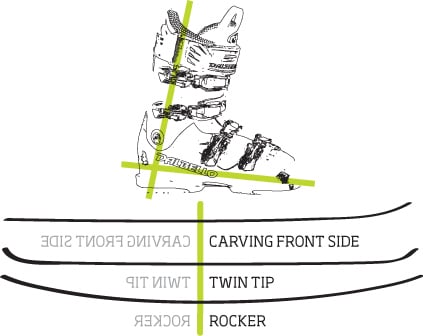 Ski/Walk Mode
New Ski-Hike Mechanism – Thin, lightweight, and compact. New, advanced function "Hike/Ski" control combines extended range of hiking/walking motion with solid, sensitive and powerful ski control.
Buckles
Dynalink – Dalbello Exclusive Dynalink closing system: instep buckles linked to shell for highly effective rearfoot closure system minimizing foot sliding, heel lift and boot shell distortion for improved control and enhanced performance leaving the cuff free to flex.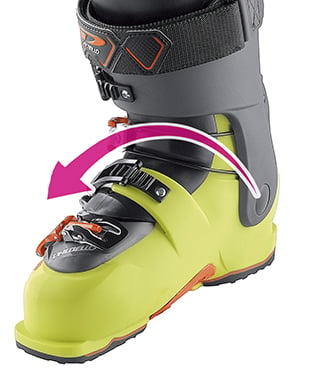 Variable Volume Fit (VVF) – Provides a high degree of shell width adjustment. The amount of closure is superior to any classic overall shell design. This micro buckle gives the boot variable width between 102-100 mm and the buckle can remain closed for entry / exit.
4 Micro Adjustable F16 Aluminum Buckles
Power Strap
Dalbello Panterra 100 ID Ski Boots have power straps
Sole
New Walking Soles – Bi-injection PU / rubber toes/heels + Rubber Arch Clad (select models) provides durability, stability and traction while walking and climbing.