Rocker Type
Continuous Rocker – The rocker line that started it all. Speed and fluid predictable pop truly define this rocker. Designed to carry great speed into the wake with minimal drag, a continuous rocker generates a longer trajectory with similar pop every time.
Hull
Tapered Fin and Channel Alignment
Dual Landing Spines
Rails/Edges
Variable Edge Profile
Core
Biolite 3 Core – The secret recipe Hyperlite's been perfecting since day one. This core material is the gold standard in the industry and used throughout their line. Bio 3 is their lightest and most durable formula to date.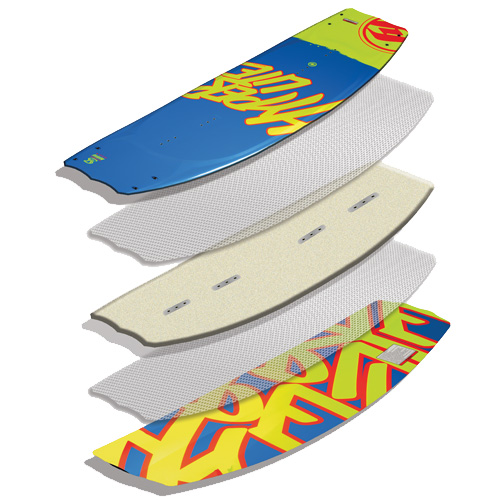 Laminates
Monocoque Construction – Integrating the top glass and the bottom glass into one. Generating a more durable board on side impacts to prevent delamination.
Layered Glass – Hyperlite's fiberglass is available in 3 weights depending on the board. Over time, traditional woven glass fibers will separate. With layered glass every Hyperlite deck will have the same pop off the double up year after year.
Fins
.8 inch P-Wing
Additional Features
M6 Inserts
Minimum Swing Weight Profile