Flex
Centered Flex – Medium lateral flex for optimal mobility and support
Articulated Cuff – Overlapping upper and lower sections of the boot for free-flowing forward flex that provides continuous support
Liner & Lacing
Dual Zone Lacing – Dual zone adjustability with customizable fit in seconds with convenient stash pockets for storing the lace-pull handles
Hybrid Tongue – This built-in tongue provides the comfort and fit of Slingshot's removable liners in a non-removable liner package for a more simplified entry and exit.
Heat Formable Liners – Jewel liners are pre-formed and ready to rock out of the box, or warm up for an unmatched, custom fit.
Double-Lasted Construction – Dual lasted for a precise liner-in-boot fit
Low Profile Lasting – Custom low-profile design for a better fit and reduced weight
Baseplate
Bottomless Base System – A lower profile system that delivers a more direct and lively foot-to-board feel
Additional Features
HHD System – The internal Heel-Hold-Down harness combined with built-in J-Bars comfortably eliminate heel lift for exceptional fit and added ankle stability.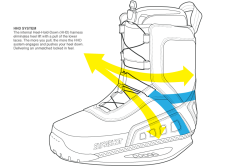 Triple-Density Footbed – New and improved multi-layer system acts as a hydraulic shock absorber. The Shox Bed memory foam footbed forms to any foot shape, eliminating knee pain. Ortho Koosh custom orthotic shock foam cradles the foot to provide maximum stability and board control. G-Sole, the Dura-gel base of our removable liners, displaces energy to cushion the hardest landings.
PVC Free – Free of solvents that are harmful to human and environmental health, Slingshot uses the highest-quality and greenest materials available.
Universal Mounting Hardware – All boots come with standard screws (1/4 - 20 x 1" flat head #3 Phillips) with washers for use with most wakeboards, as well as metric screws (M6 x 20 flat head #3 Phillips) for use with the others.