Flex
Boot Flex Meter – 3
Hyperplush Rear Flex Zone – Reduces abrasion on the back of the leg.
Fit
Adjustable Floating Toe Design – A great choice for a setup that needs to fit multiple riders and varying foot sizes. Hyperlite's adjustable sizing is designed to accommodate a wide array of sizes without sacrificing comfort or performance.
Liner & Lacing
Dual Quick Cinch Front Lace Zones – Easily loosened and tightened for smooth transitions and adjustments
Baseplate
Low Pro Plate System – Hyperlite's new platform offers maximum support, reduced heel and toe lift and unmatched durability. It's the new standard in boot to board connection.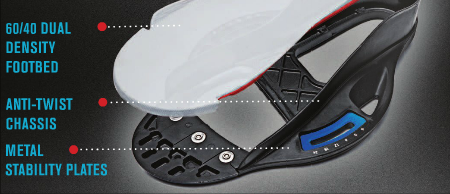 Additional Features
Dual Density Footbed
Aluminum Claw Inserts