Rocker Type
All Terrain / Pow Recurve – reCURVE Magne-Traction lifts your tip and tails from ends of camber to traditional contact points, creating a "dynamic early rise" when boot pressure is applied to center of short camber. Easy float in broken snow and pow, mild pre-initiation for hardpack and ice carving, catch-free for jib presses. Pow specific reCURVE incorporates the additional float, lift and pre-initiation of rocker beyond the short camber fulcrum.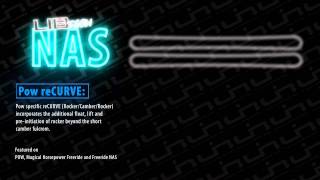 Flex
Medium-Stiff Flex – Perfect flex for all mountain riders who like to spend time riding pow and the occasional park session.
Core
Naskar – Narras-Ass Snowboard Kontrolled Active Response. Cores from hand-selected dead trees
Laminates
Quasi-Isotropic Fiberglass Power layers – Strength, power, and pop
Anvi-Tech Damping Layer – Absorbs impact
Topsheet
Bio-Plastic Beans – ExperiMENTAL division leader Mike Olson loves beans! When he's not eating them he's buying plastics made with them. Lib Tech has made a commitment to using a new earth friendly, bio-plastic top skin made from beans that features the highest strength-to-weight ratio of any top sheet in the industry.
Sidewalls
Correct Sandwich – Super light spin weight! the perfect blend of pickets and mustard. UHMW sidewalls, power transfer internal sidewalls, torsionally loose.
Ultra High Molecular Weight P.E. Speed Walls – Tough. Great wax retention
Base
Sintered UHMW Base – Super tough base aterial that holds wax well due to its compression formed amorphous polymer structure. Super fast when waxed with OneBallJay
Edges
Steel (Metal) Edges OTB – Steel edges on the bottom. Easy to maintain, gets the job done.
Magne-Traction – Steak knife technology that turns ice into powder! Magne-Traction adds edgehold and focuses the control and power under your feet where your balance is centered. Each bump or serration is strategically sized and positioned. The most aggressive bumps are in the center near and under your boot for maximum edgehold and control. The bumps are progressively less aggressive out towards the tip and tails creating catch-free user friendly tips and tails.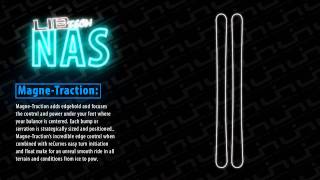 Graphics
Art by Mike Parillo
Additional Features
Pro Set-Up Stance Reference – Ride the same stance as Tim Dutton, Mike Wilson, and Jamie Pierre
Binding Compatibility
Bindings not included
We recommend a brake width equal to or at most 15 mm wider than the ski waist width.