Construction
Bombshell Construction – Injection molded ABS shell withstands high-impacts and offers unparalleled durability, dent and ding resistance.
Ventilation
Airflow Climate Control – Strategically placed vents give you easy climate control in all conditions. Vent placement maximizes airflow and heat exhaustion in warm temperatures while minimizing undesired cold air drafts.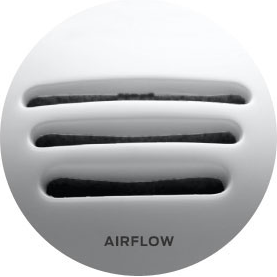 AirEvac Ventilation
14 Vents
Adjustability
Dial Fit System – Utilizing intuitive righty-tighty and lefty-loosey adjustment for quick, easy, on-the-fly adjustments and a comfortable fit every time
Additional Features
Goggle Lock – This securely retains the goggle strap on the helmet to ensure stability, comfort and performance. It's also removable!
Bombshell Ear Pads